Outcome of raids over power theft unknown
Ludhiana, November 26
The day-long raids conducted by several enforcement directorate teams of Punjab State Power Corp Ltd (PSPCL) at the premises of a charitable trust that runs a hospital, a subsidized feeding joint and a 'vridh ashram' on the Chandigarh Road here and in Doraha on Thursday is still shrouded in a thick veil of secrecy. Details of the report submitted by the directorate to the distribution wing on massive irregularities in the subdivisions concerned were not revealed till late in the evening today.
Auto dealers charge 'premium' for prompt delivery
Ludhiana, November 26
Laxity of the part of district transport officials has given a free hand to the city's automobile dealerships to fleece customers by charging an extra amount for new vehicles as "premium", for which they have to pay in unaccountable money.
Elopement Case
Police 'asks' money to raid suspect
Ludhiana, November 26
Bhulla Gupta (40), a vegetable vendor, who resides in Dashmesh Nagar, is busy arranging ` 20,000 for bringing her daughter, who was recently "abducted", back from Bihar.
Anti-Obesity Day
Beware of diet pills!


Ludhiana, November 26
Depending on anti-obesity pills as an easy way to lose weight, beware as it could land you in serious trouble. The lesser known Ayurvedic companies as well as multinational pharmaceuticals are selling anti-obesity pills containing antidepressants, carbohydrate blockers, appetite suppressants, diuretics and laxatives, which when consumed without medical supervision results in multiple health complications.


| | | |
| --- | --- | --- |
| | | |
MC yields to agitating employees' demands
Agrees to disband sanitation committees, regularise workers
Ludhiana, November 26
A massive protest rally organised by the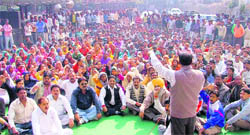 Municipal Karamchari Dal at the A-zone office of the civic body at the Mata Rani Chowk here today turned into a thanksgiving function as councillors from the ruling coalition and the Congress, representing the core committee, announced that the demand for regularisation of safai karamcharis and disbanding the mohalla sanitation committees, had been accepted in principle by the civic administration.
Municipal Corporation employees stage a protest in support for their demands in Ludhiana on Friday. Photo:Inderjeet Verma
House Tax Arrears
MC gets tough with defaulters
Ludhiana, November 26
In the wake of huge house tax arrears against thousands of commercial and industrial establishments, the local Municipal Corporation appears to have decided to get tough with the defaulters and make them pay up.
48 illegal structures razed
Ludhiana, November 26
The Municipal Corporation (MC) today carried out a massive encroachment clearance drive at Transport Nagar here where 48 permanent encroachments, including pucca ramps, sheds, walls and kiosks on the MC land were razed.
Non-Release of Grants
Private college teachers threaten stir
Mandi Ahmedgarh, November 26
Activists of the Punjab and Chandigarh College Teachers' Union (PCCTU) while accusing officials at the Director Public Instructions (Colleges), Chandigarh, office of allegedly delaying the process of releasing the grants for private colleges of the state have threatened to launch an agitation if the procedure for the payment of salaries was not reviewed at the earliest.
10-yr-old needs money for bone marrow transplant
Ludhiana, November 26


Bone marrow transplant is the first line of treatment that can put 10-year-old Abhay's life back on track. The little boy having been diagnosed with apalstic anaemia and is undergoing treatment at the Post Graduation Institute of Medical Education and Research (PGIMER), Chandigarh. Son of Om Shakti Singh, a resident of Indira Puri on Tajpur Road, Abhay was admitted in the PGIMER under Dr Deepak Bansal, associate professor in the department of paediatrics.
Abhay
2 killed, 1 hurt in accident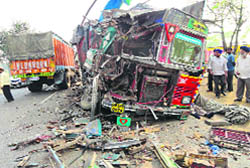 Machchiwara, November 26
A man and son died on the spot and another sustained injuries after two trucks collided head on near Jharodi village on the Machchiwara-Rahon road. The deceased have been identified as Ranjit Singh and Jagdish Singh. Ranjit, the son, along with his father, who was sitting beside him, was on his way to Rahon.
The mangled remains of one of the trucks that met with an accident near Macchiwara. A Tribune photograph
Stress on lawyers' role in building society
Ludhiana, November 26
The Punjab Lawyers Forum organised a seminar on "Role of advocates in building an ideal society" at Model Town here.
Free medical check-up camp
Ludhiana, November 26
Baba Jaswant Singh during the annual Gurmat Samagam, being organised from November 25 to 28, said: "Universal brotherhood, humility and equality of mankind without any discretion of caste are the moral values enshrined in Shri Guru Granth Sahib, the only holy scripture that has preachings of saints from different religions. In today's time we have to trace our ethical, religious roots and take guidance from the rich heritage endowed by our Guru Sahib and spiritual Intellectuals."
5 selected in recruitment drive
Mandi Gobindgarh, November 26
North India's fastest growing tea company Ginni Tea visited RIMT institutes today to recruit MBA students.


Mysterious death of servant
Police suspects drug overdose
Ludhiana, November 26
Mystery surrounds the death of a 22- year-old servant of LIC agent, who was found dead at his office here this afternoon.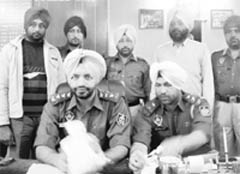 One booked with 500 gm smack
Mandi Gobindgarh, November 26
The police party during a "naka" near the Octroi post, Amloh road, Mandi Gobindgarh, recovered 500 gm smack from a man here today. The suspect was later identified as Ranjit Singh, alias Deepa, resident of Bhikhi road, Budhladda, in Mansa district.


Policemen show the smack that was recovered from a suspect at Mandi Gobindgarh on Friday. A Tribune photograph
'Boy who killed himself attempted suicide before'
Jagraon, November 26
The case of a suicide by a teenager, Parasmani, took a new turn today with the family members of one of the suspects involved in the incident claiming he had attempted to take his own life earlier too. The boy reportedly took the drastic step by setting himself afire last Wednesday.


Cheque bounce case
Man gets 2-year jail
Ludhiana, November 26
Vipindeep Kaur, Judicial Magistrate, has convicted Tarlochan Singh, a resident of Rajguru Nagar, Ludhiana, in a cheque bounce case. He was sentenced to undergo two years imprisonment and a fine of Rs 2,000 was also imposed on the accused of Rs 2,21,930/.
Insurance co. told to pay Rs 1.51 lakh
Ludhiana, November 26
Terming the denial of a mediclaim to be unjustified, the District Consumer Disputes Redressal Forum has ordered the United India Insurance Company to pay `1,51,430 to an aggrieved consumer. The forum also directed the company to pay `10,000 as compensation and ` 2,000 as costs of litigation.