Case yet to be registered, kin to fight for justice
'Youth crushed to death by bus in Barnala'
Shariq Majeed
Tribune News Service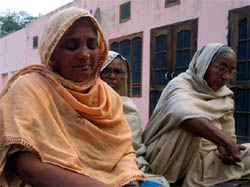 Mother of deceased Jameel Khan
Patti Deep Singh-Bhadaur (Barnala), November 28
An incident of police not registering an FIR in connection with an accident case in which son of a poor farmer was allegedly crushed to death by the the bus owned by an influential business man has come to light in village Patti Deep Singh of Bhadaur in Barnala.
Jameel Khan (24), son of Bhola Khan was reportedly returning home in the morning on October 21 on his motorcycle bearing registration number PB 1920-5040 from the grain market in Bhadaur. He was allegedly crushed to death along Vidhata Nagar road by a bus of Govind International Public school owned by a businessman Darshan Singh.
After conducting the last rites, when the family approached SHO (Bhadaur) Baljeet Singh to register an FIR, the latter started playing delaying tactics.
The family members further alleged that on October 27, they again approached the SHO. He came up with a compromise formula and asked them to take money in lieu of the death of boy. They approached SSP (Barnala) after no FIR was registered in this connection.
The SSP on the same day marked an inquiry to the DSP (Tappa) Mukhtiyar Singh.
The DSP too failed to get an FIR registered and instead asked the family that police may need to exhume the body of the deceased to ascertain whether he was driving under the influence of liquor. They added that they agreed to it but the police did nothing about it.
"Instead of registering an FIR, the police is acting as mediators and is pressurising us to accept money for the loss. They are also indirectly threatening us of dire consequences including booking us in false case of drug trafficking, if we did not accept their proposal," alleged Bhola Khan, father of the deceased.
"My son is a poor farmer. He along with his my two grandsons including the deceased were working very hard to sustain the livelihood. Since one of my grandson is no more, it would be hard for us to make livelihood," said Buta Khan, grand father of the deceased.
"We would fight for justice and move court to get the case registered," said Gulzar Khan, uncle of the deceased.
Even as senior police officials preferred to remain tightlipped on the issue, police sources said that SHO Baljeet Singh, quoting the family members of the deceased, kept the higher authorities in dark by claiming that family of the deceased refused to register an FIR since their son died due to his 'own fault'. Sources added that the SHO told higher authorities that family members of the victim did not agree to get the postmortem of their deceased son done.
However, SSP Barnala, when contacted, did not comment much on the issue and instead pointed out that he had been told by the SHO of the area that family of the deceased did not want to register the case in this connection.