Almonds, desi ghee on the menu for fighter cocks
Jodhpur Romana (Bathinda), November 26
Almonds, 'desi ghee', grams, cereals, chapattis and 'choori' among other edibles — it is not the diet of country's greatest wrestler Dara Singh or of Great Khali. In fact, these are fed to cocks of Taj breed in Malwa to nurture their fighting abilities.
Accused duo sent to judicial custody till Dec 10
Bathinda, November 26
A local court today sent Daljeet Singh of Aspala village and Kampal Singh of Sarava Bodla village, the alleged kidnappers of Nandan Nagpal of Malout, to judicial custody till December 10. Before, the accused would undergo an identification parade.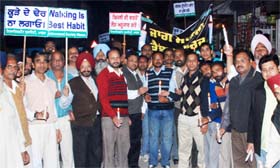 Members of the Environment Society along with other organisations taking out a candle march against lack of basic facilities in Mansa on Friday. A Tribune photograph
Tributes paid to 26/11 heroes
Bathinda, November 26
Students of the Millennium School here paid homage to the heroes of the 26/11 Mumbai terror attacks by organising a peace march on the school campus today. Principal Beena Rao said the safety and security of the country doesn't solely rest on the shoulders of the armed forces and it was the responsibility of every citizen.
Consumer forum penalises college for inadequate service
Ferozepur, November 26
The District Consumer and Disputes Redressal Forum has penalised one of the local college for inadequate service and unfair trade practice.The college authorities have been directed to pay the complainant Akhil Aggarwal a sum of Rs 50,000 as compensation for the loss of one year, mental agony and also to refund the total fee submitted to the college and university besides a sum of Rs 3,000 as litigation expenses within 30 days otherwise they would be liable to pay interest at the rate of eight per cent per annum from the date of complaint.
Stand off between paramedics, health dept ends
Fazilka, November 26
About week-long standoff between the paramedics and authorities of the health department over alleged confinement of officiating SMO of the Primary Health Centre (Kasuana) Dr Gyan Singh and registration of cases against Para Medical and Health Employees Coordination committee chairman Ravinder Luthra and four others ended last night.
Man booked for beating wife to death
Sriganganagar, Nov 26
Even when the 'International Day for the Elimination of Violence against Women was observed' globally on Thursday a housewife was brutally beaten to death by her husband in Suratgarh sub-division while a female cook was raped and killed in Padampur area after the sunset, district police confirmed.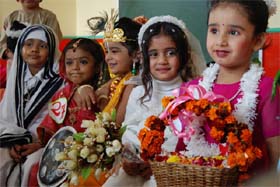 Tiny-tots of Radiant Kids Playway school during a fancy dress competition in Bathinda on Friday. Tribune photo: Pawan Sharma
Mansa residents stage protest
Mansa, November 26
Lodging a protest against the lack of civic amenities and uncleanness all around the city, the Environment Society, Mansa in association with various social, religious and trade organisations organised a 'Jago Mansa Candle March' in the city on Thursday.
Farmers exhorted to use stubble for farming
Abohar/ Fazilka, Nov 26
National Bank for Agriculture and Rural Development (NABARD) exhorted the executives of all the nationalised, private, rural and cooperative banks to promote Jawaharlal Nehru National Solar Mission that is to be implemented in three phases and aims to feed 20,000 MW to the national grid by 2022, with an initial investment of Rs 4,337 crore.
Farmers flay irrigation officials
Abohar, November 26
The Tail-end Farmers Sangharsh Samiti had criticised the irrigation department for sanctioning canal water to some brick kilns in this sub-division.While faxing a memorandum to the CM office and chief engineer of the irrigation department today, Kulwant Singh Sandhu and Tejwinder Singh Aulakh, convener and advisor respectively regretted that the officials here had succumbed to pressure for giving benefit to kin of veteran politicians of neighbouring state, who are considered close to ruling politicians of Punjab.
Teenagers booked for sodomising minor schoolmate
Ferozepur, November 26
Three teenaged students of a local school allegedly sodomised a minor schoolmate for many days.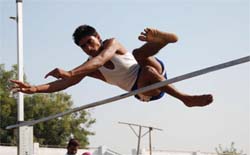 A high-jump competition in progress during the District School Athletics Meet at the Sports Stadium in Bathinda on Friday. Tribune photo: Pawan Sharma
Dalit families join SAD in Abohar
Abohar, November 26
Members of 18 Dalit families at village Sardarpura of Balluana segment have joined the SAD, said MLA Gurtej Singh Ghuriana. He offered them siropas as well.He said Sanjeev Godara, political advisor of the SAD and member of Punjab Mandi Board along with Raipura sarpanch Harpal had launched a campaign to bring Dalits to the SAD fold since these communities made a strong base for the Congress during the past elections.
Market committee chief assumes charge
Ferozepur, November 26
BJP leader Lakhwinder Singh Rattoke assumed the charge as chairman, Market Committee (Ferozepur) on Friday in the presence of the BJP leaders and workers of the district.