Pamphlets cite irregularities committed by Nagar Palika
Mussoorie, December 1
Citizens of the town woke up today in shock when they received pamphlets distributed inside newspapers citing several irregularities committed by the Nagar Palika President and ward members.
Proposals of public interest passed in Palika Board meeting
Mussoorie, December 1
In the Palika Board meeting held yesterday after the dismissal of the PIL filed against Nagar Palika, Mussoorie, in the High Court by its own nominated member who had alleged rampant corruption, Palika members and President OP Uniyal heaved a sigh of relief.
Wild Animal Attacks on Crops
Farmers being given subsidies to fence farms: Minister
Pitthoragarh, December 1
Uttarakhand Agriculture Minister Trivendra Singh Rawat has agreed that Uttarakhand farmers are troubled as wild animals are damaging their crops.
Workers' Retrenchment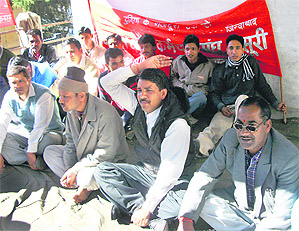 Resort staff protest against management
Mussoorie, December 1
Avalon Resort employees sat on a dharna at the Kacheri premises today protesting against the illegal retrenchment drive carried out by the management under the aegis of the Hotel and Restaurant Karamchari Union, Mussoorie. They were protesting against the retrenchment of 11 and transfer of six workers.
Workers of Avalon Resort hold a protest in Mussoorie on Wednesday.

'Green Chemistry boosting pollution-free environment'
Dehradun, December 1
Dr Rajender Verma of the US Environmental Protection Agency today said the invention of the microwave-assisted organic synthesisers had greatly helped in keeping environment free of pollution.
Ruckus at EO's Residence
MC employees roll back strike
Haridwar, December 1
In a unanimous decision, the Haridwar Municipal Committee (MC) rolled back its indefinite strike in view of the arrest of violating traders, who created a ruckus at the Executive Officer's (EO) residence and misbehaved with his wife.
Civil hospital shifted to St Mary's
Mussoorie, December 1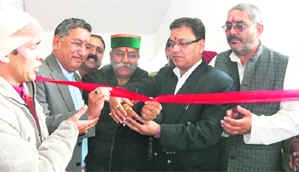 The Mussoorie Civil Hospital was shifted to newly constructed block at St Mary's Hospital near Kulri. Mussoorie MLA Jot Singh Gunsola inaugurated the newly built section. He also met the first patient admitted in the hospital and enquired about his health. The section consists of male and female indoor wards.
MLA Jot Singh Gunsola inaugurates the new block of St Mary's Hospital in Mussoorie on Wednesday. A Tribune photograph

Tripathi apologises for unruly behaviour
Dehradun, December 1
The matter related to altercation between Judicial Magistrate-1 Arvind Nath Tripathi and advocate of the District Court over former's alleged misbehaviour with the latter in court rooms, was finally resolved today. In a meeting mediated by Additional District Judge Pradeep Pant, Tripathi apologised before the working committee of the Dehradun Bar Association (DBA). Thereafter, the advocates called off the boycott after the apology.
State delegation to visit Brazil
Pitthoragarh, December 1
A six-member SWAP (sector-wise approach for water supply) delegation of Uttarakhand led by Drinking Water Minister Prakash Pant will leave for Brazil on December 3 to study water distribution system in local bodies in that country.
U'khand Parivartan Party rally on Dec 7
Dehradun, December 1
The Uttarakhand Parivartan Party will hold a massive demonstration at Almora on December 7.
Ramdev's aide cremated
Haridwar, December 1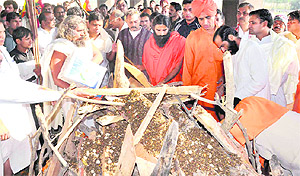 Last rites of Baba Ramdev's aide and spokesperson of the Bharat Swabhiman Trust Rajeev Dikshit were performed at Kankhal Cremation Ghat here today. Terming Dikshit as one of the pillars in the trust's formation, yoga guru Swami Ramdev termed the loss as irreparable. He termed Dikshit as a social activist and visionary, who had a keen desire to help society.
Baba Ramdev at the cremation of Rajeev Dikshit in Haridwar on Wednesday. A Tribune photograph

Miss Uttarakhand contestants' shopping skills judged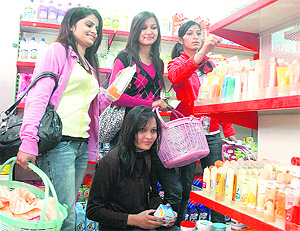 Dehradun, December 1
It was another day of competition for 20 beautiful girls from all over Uttarakhand who are competiting with each other for the title of Miss Uttarakhand, 2010, yesterday. All young girls gathered at Needs Supermarket before fighting for the title. They were given gift vouchers worth Rs 1,000 by the proprietor of the market and asked to shop according to their needs.
Participants of the Miss Beautiful Skin contest at a shop in Dehradun on Tuesday. A Tribune photograph

'Arms and the Man' staged by IMA
Dehradun, December 1
"Arms and the Man", an English play, was staged at the Khetarpal Auditorium of the Indian Military Academy (IMA) here today. Lt-Gen RS Sujlana, Commandant, IMA, witnessed the play, along with his wife Rashmi Sujlana. The play was also watched by cadets and officers with their families.
Allotment of Shops
BJP-run MC trying to benefit workers, alleges Congress
Dehradun, December 1
Uttarakhand Congress Committee today extended support to the ongoing agitation by the Minor Traders' Association, against the Haridwar MC, alleging rampant corruption over the allotment of shops.
Clock Tower area declared 'No Parking' zone
Dehradun, December 1
People had some respite from the harrowing traffic today, as 500-m area around the Clock Tower was declared "No Parking" and "No Waiting" zone.
Chhatra Sangathan conference on Dec 4, 5
Dehradun, December 1
The Parivartankami Chhatra Sangathan will hold its seventh conference on December 4 and 5 in Dehradun.