Leopardess dies of pneumonia
Pitthoragarh, December 3
In the first pneumonia death of leopards in Kumaon this year, a female leopard was found death by villagers near the Kuzgarh river in Tarikhet area of Ranikhet in Almora district on Thursday.
Nishank for transparency in relief operations
Dehradun, December 3
Uttarakhand Chief Minister Ramesh Pokhriyal Nishank reviewed the status of the PWD, the Rural Development Department, and disaster management operations in Secretariat today.
Unruly behaviour
Bar Association boycotts SDM's court
Mussoorie, December 3
One week after the fall out between certain lawyer and SDM Manoj Kumar, the Bar Association of Mussoorie have decided to boycott the work at SDM court alleging Kumar's arrogant behaviour.
Canteen in a state of neglect
Mussoorie, December 3
The Garhwal Mandal Vikas Nigam (GMVN) canteen that was inaugurated 4 years ago is still lying vacant and closed in appalling condition till today. The condition of the canteen can be gauged from the fact that the window panes of the canteen are broken and the main gate has been locked since its inception.
18 ponds to be given on lease for fishery business
Dehradun, December 3
There is good news for unemployed people of the district as the Dehradun district administration is planning to provide them employment very soon. They have decided to give natural ponds as well as manmade ponds here on lease so that people can be provided some chore and also with this the ponds can be maintained well.
Kailash Mansarowar Yatra 2011
Landslides force change in route
Pitthoragarh, December 3
Keeping in view the continuous landslides on the route between Tawaghat to Mangti, the Government of India has changed the route of the Kailash Mansarowar Yatra for 2011. This will mean extension of the yatra by one day.
Block officials appointed
Dehradun, December 3
District Magistrate Sachin Kurve, on Thursday, appointed the returning officer as well as assistant returning officer in various blocks who would ensure that the posts of Pradhan Gram Panchayat are filled soon. Suryamani Bhatt, Block Development officer (DO) Chakrata, has been appointed as returning officer for Chakrata, while DD Nathwan, assistant development officer, Chakrata, has been appointed as the assistant returning officer.
Sell potatoes in Dec, study tells U'khand farmers
Produce from other states will start arriving after Dec and will lower prices
Nainital, December 3
The price of potato from the plains in the forthcoming potato season, from December to March, will be the highest in December.
Young talent to get chance in films
Dehradun, December 3
It is good news for the budding actors of the state capital who want to make their career in the film industry, as the city-based Doonghati Rangmanch Society, would be giving chance to the talented ones in the films they are planning to make.
NCC holds cleanliness camp at Guchu Paani
Dehradun, December 3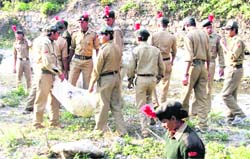 A cleanliness camp was organised by the cadets of NCC at Guchu Paani here today. Lead by Col Rakesh Pandey, camp commandant, more than 500 cadets presented flowers to the visitors and requested them to ensure that they would not spoil the beauty of the place. They also asked the shopkeepers to see to it that no one spread filth.


Cadets pick up the filth at Guchu Paani on Friday.

Seminar on global warming begins
Dehradun December 3
A two-day national seminar on Global Warming and Its Effect on Water Resources commenced at the Graphic Era University, here today.The seminar was conducted at Department of Civil Engineering. The main aim of the seminar is to create awareness among students regarding the harmful effects of global warming on the water resources.
Gang rape bid foiled
Dehradun, December 3
A first year student of BCA was allegedly lifted and taken to a deserted place by a group of youth with an intention to rape late last evening at Shimla Bypass Road. However, she was said to have been saved by a constable who was passing by.
Don't ignore chest pain, says specialist
Dehradun, December 3
Dr RK Jaswal, a heart specialist, today said muscular pain in the chest should not be ignored as it can lead to serious complications.Delivering a talk on Heart Ailments, Dr Jaswal a renowned heart specialist from Fortis Hospital, Mohali, said a Doctor should be consulted because lurking underneath might be a serious problem like Angina, pertaining to heart, and quick remedial action can prevent complications," he said.
Passport office vandalised
Dehradun, December 3
Passport office was allegedly vandalised by a group of agitated youths here today. They also reportedly misbehaved with the staff members.As per the information, a youth had come to get his passport made but a department official allegedly asked for some money for doing his work.
Rangoli making competition at ICFAI
Dehradun, December 3
Complementing the cultural heritage of India, the ICFAI University's, Faculty of Education organised a Rangoli making competition here yesterday.The competition comprised of 8 teams of the prospective teachers. The teams were required to present their idea through natural elements and the theme remained open to all.