Self-motivated, disabled decrypt social maze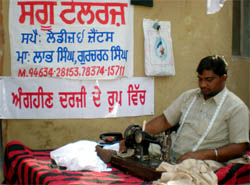 Bathinda, December 4
To make people aware about their level of self-motivation, personal experiences besides the insensitivity of governments, a group of physically challenged persons participated in the Virasat Mela, setting up a special hutment like structure, with 'Ang Hina Di Zindagi' inscribed boldly on it.


Labh Singh, who is physically challenged, at work in Jaipalgarh village, the venue of Virasat Mela, in Bathinda on Saturday. Photo by writer

Concern over declining footfall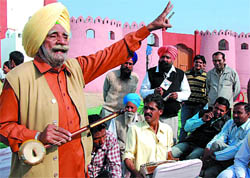 Old-timer blames it on western culture
Bathinda, December 4
"Earlier, people from every nook and corner used to come to attend such heritage fair but now with the intrusion of western culture, it is confined only to lovers of tradition," said Gurpal Singh Pal, a renowned folk singer of Punjab.

Folk singer Gurpal Singh regales spectators during the ongoing Virasat Mela at Jaipalgarh village in Bathinda on Saturday. Tribune photo: Pawan Sharma

Now, Chetna March to 'awaken' Hindu community in state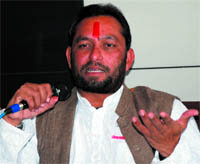 Bathinda, December 4
To create awareness among the Hindu community about its role in the formation of government in the state and to propagate its 11-point demand charter in a big way, the Shiv Sena (Hindustan) will begin a month long 'Vishal Hindu Chetna Rath Yatra' on December 11 from Mata Shri Kali Devi Mandir, Patiala. The yatra will culminate at Shri Durgiana Mandir, Amritsar.

Pawan Gupta, national president of the Shiv Sena (Hindustan) interacts with media in Bathinda on Saturday. A Tribune photograph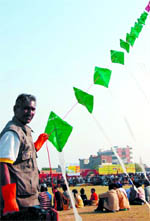 Dinesh from Samrala flies 151 kites using a single string at the ongoing Virasat Mela in Bathinda on Saturday. Tribune photo: Pawan Sharma

Investors trace traits of bull & bear
Bathinda, December 4
India Infoline Ltd (IIFL), a leading one-stop financial services provider organised an investors meet in Bathinda on Saturday to share their views about the basics of investing and the road ahead for Indian stock markets in the backdrop of vibrancy in equity stock market.
570 examined at free eye camp
Bathinda, December 4
About 570 patients were examined at a free eye check-up-cum-operation camp organised by the Lions Club Bathinda Royal here today. Out of these, over 180 patients were identified for cataract operations.
MC succumbs to bullet injury
Ferozepur, December 4
Municipal councillor Kulwant Singh Maggo, who was shot at by three persons in the city on December 1, died today at a hospital in Ludhiana, where he had been undergoing treatment as he had suffered two gunshot wounds in the attack.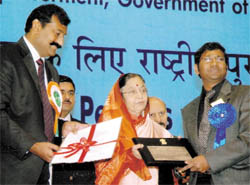 The national award for the best local-level committee of the National Trust was received by Dr S. Karuna Raju, IAS, DC-cum-Chairman (Faridkot) from the President of India Pratibha Devisingh Patil in the presence of Union Minister D. Napoleon and Mukul Wasnik, Union Minister for Social Justice and Empowerment at the Vigyan Bhawan in New Delhi on Friday, the International Day for Disabled Persons. A Tribune photograph

Nandan's abduction
One-day police remand for accused in Malout boy's kidnapping case
Bathinda, December 4
The Thermal police in Bathinda today got one-day police remand of two accused in the Nandan Nagpal Kidnapping case, namely Mandeep Kaur and Manpreet Singh.
Jago Punjab Yatra
Manpreet to visit Fazilka on Dec 11
Fazilka, December 4
Former Finance Minister of state Manpreet Singh Badal would visit Fazilka on December 11 as part of his ongoing Jago Punjab yatra. One of his close associate Satinder Singh Manta said he would hold a public meeting in Mandi Arniwala of this subdivision. Another rally is scheduled at Ghas Mandi. He would finally address a rural gathering at village Abhun. Manpreet has decided to meet the press and members of the Bar Association during his visit here.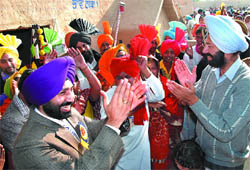 Deputy Commissioner Gurkirat Kirpal Singh (right) and SSP Sukhchain Singh Gill sway to the tune of a folk song during the ongoing Virasat Mela at Jaipalgarh village in Bathinda on Saturday. Tribune photo: Pawan Sharma

Hari Ke wildlife sanctuary
Two members of fishing mafia arrested
Hari Ke (Ferozepur), December 4
As it starts getting dark early and gets foggy at night, the wildlife sanctuary has become a 'safe place' for the unscrupulous elements to carry out their illegal activities connected with fishing and poaching. In the past about four weeks, the district wildlife authorities have managed to detect three cases of illegal fishing and poaching in the wildlife sanctuary spread over three districts — Ferozepur, Kapurthala and Tarn Taran. Late last night, the guards, who were on duty, caught two members of a gang involved in fishing and poaching and recovered a boat, six nets and 15 kilograms of fish from their possession.