A Divali a month after the festival of lights
According to legend, the news of Lord Rama's return to Ayodhya reached late in Jaunpur, Rawain, Jaunsaar-Bhabar
Ajay Ramola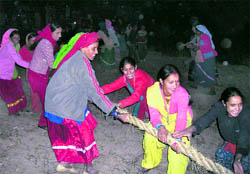 Women of Bhatoli village compete with men in a tug-of-war on Divali.

Mussoorie, December 8
Residents of Bhatoli village in Jaunpur block, 20 km from Mussoorie, gathered to celebrate Divali, which falls after a month after the normal Divali, with fervour on Monday.
This Divali is celebrated in the mid-Himalayan region that includes Jaunpur, Rawain, Jaunsaar-Bhabar and some parts of Sirmaur district of Himachal Pradesh. It is celebrated for continuous five days with different significance for each day.
Villagers from Bhidyana, Gaonkhet, Banogi, Kandikhal etc converged in large numbers at Bhatoli for the celebrations. The women folk also participated in the festivities in large numbers.
According to villagers, they celebrate Divali a month later than the normal one because the information of Lord Rama's return from Lanka to Ayodhya reached late in these parts.
The festivities began with the lighting of fire and creating torches with the help of a local plant called bhimal. This tradition is called holiath.
Thereafter, 'bhand' (rope-making tradition) is performed in which villagers prepare a rope from locally available grass for the tug-of-war between the villagers late at night.
Villagers opine that 'bhand' has a mythological bearing and is related with the "samudra manthan". (the churning of the ocean of milk from which nectar emerged).
Villagers gather a locally available grass and make a huge rope. The rope signifies the Vasuki snake that was used during the mythological churning.
According to SS Rawat, a villager from Jaunpur, another belief that goes on in making the rope is that it is a nagin (she-snake) that roamed the villages in Jaunpur region and was killed by mistake.
The place where the nagin was killed, a grass called 'babai' emerged and is believed to be the same snake.
According to some villagers, this Divali is also celebrated to commemorate a victory of the hero of Garhwal, Madho Singh Bhandari.
He emerged victorious in a battle and returned one month after the traditional Divali. To celebrate their hero's return, men and women took a rope to their fields and conducted tug-of-wars till late night. The bouts stopped only after the rope was broken.
After the tug-of war, the villagers sing, dance, make merry and drink a locally prepared herbal intoxicant.
The festivities end with 'mandan' in which the Pandava nritya is performed by villagers. The festival denotes the victory of good over evil.
The villagers, who reside outside, come especially on this festival to greet each other.
Other legends
The tug-of-war is related to the churning of the ocean of milk from which nectar emerged
According to a local legend, the rope used in the tug-of-war represents a nagin that was killed by accident
The fest commemorates a victory of Garhwali hero Madho Singh Bhandari