PGI contract workers end strike
Grievances panel to file report within 10 days
Chandigarh, December 9
The strike at PGI by contractual employees that began last Friday ended after a meeting held between officials of the institute and the UT labour department. It was decided to set up a four-member committee to look into the various grievances of the workers. The panel has been charged with submitting its report within ten days.
Winter freezes LPG supply
Chandigarh, December 9
With the onset of winter, shortage of liquefied petroleum gas (LPG) or cooking gas in the city has become a matter of considerable concern for lakhs of consumers who are made to wait for weeks together to get their gas cylinders refilled.
Overladen tractor-trailers a nuisance on roads
Zirakpur, December 9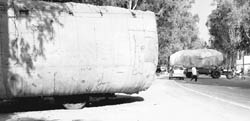 Travelling on highways is certainly not a smooth ride for commuters as there is no check on the movement of overloaded tractor-trailers carrying husk, fodder and other bulky materials.

Overloaded tractor-trailers pose a threat to the lives of motorists on the Patiala- Zirakpur highway. Tribune photo: Nitin Mittal
Police gets laser gun to check speeding
Panchkula, December 9
The police has procured a small laser gun to check speeding by vehicles on roads. The gun is easy to use as just one person can handle it.
Entry Tax Chamber of industries opposes move
Chandigarh, December 9
The Chamber of Chandigarh Industries (CCI) opposed the move to levy entry tax on commercial vehicles entering the city yesterday.
Judicious use of polio vaccine must: Experts
Panchkula, December 9
Though the number of polio cases was coming down steeply in the country, experts have suggested for judicious use of polio vaccine here yesterday.
Chrysanthemums in full bloom at Sec 33
Chandigarh, December 9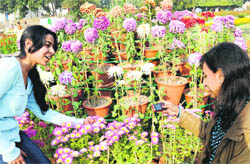 A total of 261 varieties and thousands of colourful chrysanthemums presented a visual delight for visitors to the annual chrysanthemum show, which opened at the Sector 33 Terraced Garden this morning.




Girls click photographs during the Chrysanthemum show at Terraced Garden, Sector 33, Chandigarh, on Thursday. Tribune photo: Manoj Mahajan
Complexities of life come to fore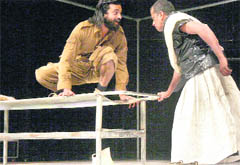 Chandigarh, December 9
The first ever Ibsen Festival-2010 organised by the Chandigarh Ibsen Theatre Festival continued to draw audience on the third day when "Peer Gynt" was staged in Malayalam by the Oxygen Theatre Company, Thrissur, under the able direction of Deepan Sivraman, the winner of seven prestigious Mahindra Excellence in Theatre Awards-2010.

Artistes stage the play 'Peer Gynt' at Tagore Theatre in Chandigarh on Thursday. Tribune photo: Vinay Malik
Base Repair Depot bags two awards
Chandigarh, December 9 Chandigarh-based number 3 Base Repair Depot (BRD) has bagged two awards for overall excellence in the field of medical services and Hindi propagation. The awards were announced during the Annual Commander's Conference held at Headquarters Maintenance Command, Nagpur.
Rare surgery performed
Mohali, December 9
A complicated surgery to treat incisional hernia through laparoscopy was performed successfully at the Civil Hospital in Phase VI here today.
Too early to establish cause, says SSP
Mohali, December 9
Reacting to reports appearing in media over reasons behind the mysterious death of Panchkula realtor Suresh Kumar, the Senior Superintendent of Police today said it was premature to arrive at any conclusion as the forensic and post-mortem reports were yet to be submitted.


Former director of govt museum passes away
Chandigarh, December 9
VN Singh, nodal officer, Le Corbusier Centre, and former director, Government Museum and Art Gallery, died here this morning. VN Singh, who had slipped into coma at the Government Medical College and Hospital, Sector 32 (GMCH-32), following a car accident on November 28, was 72. A well-known figure in the art and cultural and bureaucratic circles in the city, VN Singh remained at the helm of affairs of the government museum for about 25 years and was an authority on the art and architecture related to Chandigarh. He also remained principal of the Government College of Art for a brief period in 1989.


VN Singh
Teachers barred from training at govt schools
Notice leaves BEd students in the lurch
Chandigarh, December 9
The Punjab government's latest notice, barring teacher trainees from undergoing training at the government schools with no vacancies has taken its toll on around 25,000 BEd students across the state.
RTE Act
Admn seeks time to notify guidelines
Chandigarh, December 9
The administration has sought more time to notify the draft guidelines of the Right to Education Act, which will be applicable in the schools of the Union Territory.
Rural schools get regular sports teachers
Chandigarh, December 9
After a prolonged wait, several city rural schools have now been given regular sports teachers.