Cricket betting racket busted
5 held; Rs 3.51 lakh, 68 mobile phones, computer seized
Manish Sirhindi
Tribune News Service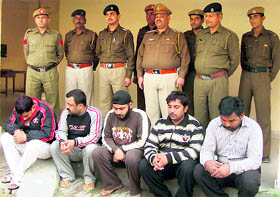 The accused in police custody in Panipat on Thursday. A Tribune photograph
Panipat, December 9
The district police today busted a gang allegedly involved in betting on international cricket matches and arrested five persons, who were running the racket.
The police seized 68 mobiles phones, a TV set, a computer, a DSL modem, a "betting book" and Rs 3.51 lakh.
District police chief Pankaj Nain said the police had received a tip-off on the basis of which it raided a house near Amar Bhawan Chowk. Five persons - Sandeep and Gulshan, sons of Sushil Kumar, a resident of Israna Bazaar, Mukesh Kumar, son of Ashok Kumar, a resident of the Quila locality, Gurmail Singh, son of Tirath Singh, a resident of Pacranga Bazar, and Ajay, son of Ramchand, a resident of Balmiki Mohalla, were arrested from there.
Nain said during interrogation, it was found that the gang was involved in betting on international cricket matches. He said Gulshan was the kingpin of the gang, who used to charges Rs 2,500 from small bookies spread across the region. These bookies used to collect money from those interested in betting on cricket matches and they also maintained the records of the monetary transactions that took place. They all stayed in touch with Gulshan through SMSes.
The police said the gang had been betting on the recent matches played between India and New Zealand during the latter's tour of the country.
The gang was also involved in betting on matches being played outside the country, including the Australia-England series. However, largely the betting was on matches played within the country.
The police was going through the call details of the 68 mobiles that were seized to find out who all were involved in the racket, SHO, City, Naresh Ahlawat said, adding that the police was conducting raids at several places in the region to nab the bookies.
A case under Sections 3/13 (a) and 3/67 of the Public Gambling Act and Sections 420, 467 and 468 of the IPC had been registered against the five arrested at the City police station. The SHO said the five accused were in their late twenties and early thirties, and were involved in betting for a long time now. The kingpin of the gang, Gulshan, had been arrested last year also in connection with a similar crime and was still facing a case.
He said all accused were permanent residents of Panipat and were graduates in different disciplines.