Gajender bags Sword of Honour
Dehradun, December 11
All award winners were given awards by the Chief of Army Staff Gen VK Singh. The Sword of Honour, which is awarded to the best all-round GC, was bestowed upon Gajender Kumawat. Jaidev Dangi, Gajender Kumawat and Gaurav Singh were awarded the gold, silver and bronze medals, respectively.
Gajender Kumawat

Hard work paid off
Dehradun, December 11


"In my childhood, I had heard that there is something called the Sword of Honour. When I came to the academy, I worked very hard for it and finally bagged it," said Sword of Honour and silver medal awardee Gajender Kumawat. "After I passed the senior secondary exam, one of my friends told me about the National Defence Academy (NDA). I worked hard for it and entered the NDA following which I made it to the IMA," added Kumawat.
Jaidev Dangi

'From today, you are a leader'
"Don't think of the future and enjoy your present. Otherwise, you will spoil your present. The present is a gift that is why it is called present," said the Army chief VK Singh in his address to the newly commissioned officers. The reviewing officer congratulated all young officers for choosing this noble profession and asked them to keep themselves updated and to be ready to face all types of challenges.
From Bhutan, yet conversant with Hindi
Dehradun, December 11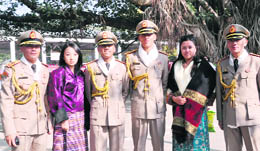 The four foreign gentlemen cadets at the IMA, all of whom are from Bhutan, impressed with their Hindi-language speaking. All four are pass-outs from the NDA and were given basic training in Hindi for one-and-a-half year at the NDA. "Hum Hindi bolte bhi hai aur likthe bhi hai (We speak and also write Hindi)," said the newly commissioned officers from Bhutan.

Cadets from Bhutan who passed out of the IMA pose after the passing-out parade in Dehradun on Saturday. Tribune photo: Vinod Pundir

DPS celebrates Scholar Badge Ceremony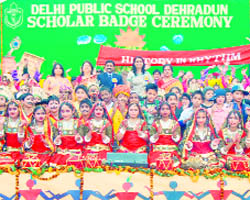 Dehradun, December 11
To felicitate the scholastic batch of the school, Delhi Public School (DPS), Dehradun, celebrated the Scholar Badge Ceremony 2010-11, here today. Dr Rakesh Kumar, Secretary, Revenue, Rural Development and Disaster Management, Government of Uttarakhand, was the chief guest of the ceremony. Pro Vice-Chairman of the school MP Singh gave the inaugural address during the ceremony. The plethora of celebrations began on an auspicious note with the lighting of the ceremonial lamp and the Sarawati Vandana.
Students at the Scholar Badge Ceremony of Delhi Public School in Dehradun on Saturday.

Speech competition held
Dehradun, December 11
Geeta Dutt Pandey bagged the first position in speech competition held on second day of union week of DAV PG College here today. The topic for the speech competition was the increasing corruption in India. A large number of students expressed their views on the issue. All participants enthusiastically participated and spoke for and against the given topic.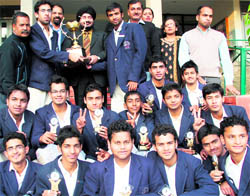 St Joseph's Academy bag cricket title
Dehradun, December 11
Hosts St Joseph's Academy defeated Raja Ram Mohan Roy Academy (RRMA) by 14 runs in the final to win the title of the Senior Council Cricket Tournament here today. The winning team set a target of 121 runs in 20 overs at the loss of nine wickets after winning the toss. Prabhanshu (36) and Akash (22) topscored for their batting side. Mukund and Akshat of the rival team got two wickets each.
The team of St Joseph's Academy that won the Senior Council Cricket Tournament in Dehradun on Saturday. A Tribune photograph

Al Fateh Club pip Patelnagar Institute
Dehradun, December 11
Al Fateh Cricket Club got the better of Patelnagar Institute of Technology by five runs during the Beehive Challenger's Trophy Inter-District T20 Cricket Tournament that was held at Matawala Bagh, Saharanpur Road.
Vivek wins 100m dash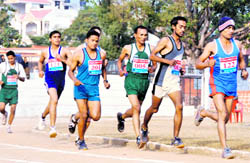 Dehradun, December 11
Vivek Kumar of DAV Dehradun got first position in the men's 100m during the 36th HNB Garhwal University Inter-Collegiate Athletic Meet here today. Vikash Kumar of BCC Srinagar and Arjun Prasad of DBS Dehradun got second and third place, respectively, in the same category. Mamta of Government PG College got first place in the 100m women category.
Athletes participate in the 36th HNB Garhwal University Inter-Collegiate Athletic Meet in Dehradun on Saturday. A Tribune photograph