Human Rights Day marked at DAV International School
Tribune News Service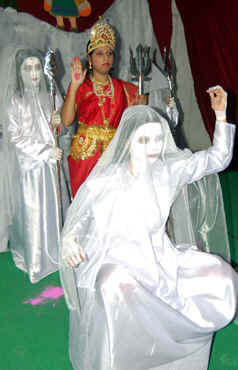 Schoolchildren perfom Saraswati Vandana at the annual prize distribution function of Sun Valley Public School in Amritsar. Photo: Vishal Kumar

Amritsar, December 14
A special morning assembly was conducted to mark the Human Rights Day at the DAV International School here. Principal Anjana Gupta, while addressing students, said human beings have been gifted the power of thinking, understanding, feeling and rationalising, by God, and should be aware of their fundamental rights.
They should raise their voice if their rights are being violated. "Every human has got the right to education, to explore his views independently and fearlessly. Nobody can bind him against his will and someone who does so is a culprit. It is our moral responsibility to inform the law enforcement authorities if we come across these sort of incidents," she said.
On this occasion, students organised a play, through which they stressed upon the significance of this day. Different competitions like slogan writing, declamation, painting, art and craft were also organised.
Discovery week
Discovery week was celebrated from December 6 to 10 at the Cambridge International School, Loharka Road, Amritsar, under the guidance of Sunita Babu, the principal of the school.
Students enthusiastically participated in various activities, which were - best out of waste, poster making, food fiesta and quiz.
A rally was also organised to make people aware of the declining sex ratio and a role play for the same was conducted at the Government School, Muradpura.
To make children aware about the election process, elections of head boy and head girl were held through computerised systems in which Mehak Aggarwal and Nikhil Arora were chosen as the school head girl and head boy, respectively.
Annual day
The Luvdale Senior School, Loharka Road, Amritsar, celebrated its Annual day based on the theme of 'childhood', wherein the concept was to highlight the need to understand that every child is special and his own unique strengths and talents need to be nurtured.
The programme, which included a mix of dramatic plays, displays and performances, enthralled parents. The programme was interspersed with patriotic and nation building motivational action sequences performed by students.
In his speech, the director of the school, Brig GS Sandhu reaffirmed the school's commitment to provide students with a vibrant learning environment and the right blend of academics, sports and extra-curricular activities. The newly constructed indoor auditorium, with a seating capacity of 300 people, was also inaugurated on the occasion.
National workshop
SR Government College for Women, Amritsar, organised a workshop on computational mathematics. The workshop commenced with a welcome note from principal Dr Gurnam Kaur Bedi. Dr Sudha Talwar, head of the mathematics department, highlighted the objectives of the workshop.
Prof Surjeet Singh, ex-professor from the King-Saud University and GND University, delivered the inaugural address.
Prof Manohar Lal, director, school of computer science and information science, IGNOU, New Delhi, gave the key note address.
The resource persons of the first day were Dr SK Mattoo, department of computer science, Delhi University and Dr Parminder Singh, department of mathematics, GND University.
Prof Rajneesh Kumar, chairman, department of mathematics, Kurkshetra University, Kurukshetra, presided over the second day's proceedings.
Resource persons included Dr Manohar Lal and Dr RS Salaria, head of department of computer science and engineering, Rayat and Bahra Institute of Engineering, Hoshiarpur and Dr MS Hundal, dean, College Development Council, delivered the valedictory address.
Gymnastics tourney
A team of young gymnasts from classes II to X of Spring Dale Senior School bagged a total of 42 medals, including 20 gold, 15 silver and seven bronze medals, in the Open State Gymnastics Championship held at Kotakapura.
Muskaan Vij of class VI bagged five gold medals in rope, hoop, clubs and freehand events in the under-12 team championship. She was followed by Mohina Kaur Girgla, of class IV, who won three gold medals in clubs and freehand events and one silver medal in the ribbon event, in the under-10 championship.
Ankita Sachdeva, of class VI won two gold medals in ball and ribbon events and three silver medals in hoop and free hand events in the under-12 team championship.
Ria Khanna, of class X was next in line with two gold medals in rope and club events and two silver medals in the hoop event in the under-15 team championship.
Karmandeep Kaur, of class VIII won a silver medal in the rope event and one bronze medal in the clubs event in the under-15 team championship.
Both Suneetpal Kaur, of class III and Kanishka Salhotra, of class II, won two gold medals, in the under-8 team championship.
Sarvpreet Kaur Sidhu, of class V, bagged two gold medals in the rope and hoop event and two silver medals in the free hand event in the under-10 team championship.
Shivjot Kaur of class III won one gold, one silver and two bronze medals in the ribbon, ball and free hand events, respectively.
The other members of the team include Sanya Talwar, of class III (two silver medals), Manmeet Kaur of class II (one silver medal) and Niharika of class III (two bronze medals).
Sharma attributed this feat to the exceptional sports training and infrastructure provided by the school to its students. "Our endeavor is to train students in such a way so as to equip them well enough to compete with their counterparts across the globe and earn recognition," he said.