Abhinav swims into history
Becomes the first in the city to win a medal at the National Swimming Championship
G.S. Paul
Tribune News Service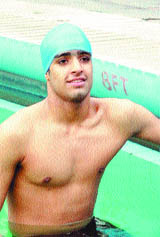 Amritsar, November 19
Abhinav… Abhinav… Abhinav! The DAV Public School campus was filled with this name as soon as he entered the school gate.His school mates along with Principal Neera Sharma warmly received Abhinav Dudeja, who came back with a silver medal in individual category at the 56th National Swimming Championships, held at Solapur in Maharashtra.
He won a silver in 100 m backstroke in the under-17 category which saw a participation of more than 500 swimmers from all over India in his category while nearly 5,000 swimmers took part in other swimming events.
Just a few months prior to this, Abhinav had won 2 medals at "CBSE Nationals" held in Jaipur with one gold in 50mts backstroke and a silver in 100mts backstroke.
It would not be exaggerated to say that sports runs in the Dudeja family. Abhinav's grandfather was a table tennis state champion in 1950s and his father Ajay Dudeja remained an unbeatable inter-university marathon champ for four years. His elder brother Raghav Dudeja (19) has been a national-level swimming champion.
His coach Rajinder Kumar Lovely said Abhinav had rare talent of speed, precision and consistency. "This is the combination of requisite ingredients required to be a champ, and he has got them. Another plus point in him is that he intends to grasp instantly. Whenever I point out his mistakes he makes a concerted effort to improve. That is his most positive point. Therefore, as a teacher my interest in him grows at all times".
While acknowledging his success humbly, Abhinav said he intended to be an Olympic champion to bring Amritsar on the global map. "Though Guru ki nagri has its own significance but it would be my humble tribute to the city if I could able to put the name of the holy city on the Olympics records", said Abinav confidently.
Though his dreams are big and he finds inadequate aquatic infrastructure in the city. He lamented that the city has not established a single 'all-weather pool' for practice in the chilly winter months.
"With just 5 month's practice in normal pool, I afraid that my dream of bringing Olympics medal might not get shattered, " he reiterated while adding, "But I have heard that the Deputy Commissioner Kahan Singh Pannu is very enterprising officer. I have decided to bring this shortcoming to his notice. He can be of great help for sportspersons like me".
It is to mention that a city like Sangrur has three indoor pools and has produced top swimming champions. "I have observed that the swimmers from Maharashtra, Gujarat or Kerala has only one advantage that their respective governments have provided them with sufficient infrastructure otherwise, our (Punjabi) built is stronger than them," he told.
Meanwhile, earlier this year, Abhinav won five medals, including three golds and two silvers, and set two new records at the "Engg Gurcharan Singh Memorial-Open State Swimming Championships" held at Ropar.
Last year, Abhinav had won 5 golds and set 2-new National records in the "34th Junior Punjab Swimming Championships" held in Ludhiana where he was declared "Best Swimmer".
The same year in June he secured the 6th position in 50 m backstroke at the "43rd International Children's Games held in Athens, Greece".
He had also set a new record in CBSE National Swimming Tournament in 2008 in Vadodara (Gujarat) winning 12 medals in various categories of swimming.