Omelette shop adds another feather to Mussoorie's cap
Mussoorie, December 18
Mussoorie has a number of places to attract tourists, but their trip is not complete till they have savoured the goodies of Lovely Omelette Centre at Kulri Bazar. The shop is a major instant-food joint for schoolchildren, medical representatives and IAS probationers visiting the mall.
Speech, poster competitions held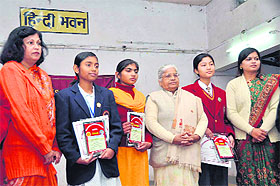 Dehradun, December 18
Aayushi Joshi of Guru Ram Rai Public School, Bindal, won the speech competition held by the Uttaranchal Mahila Association (UMA) here today. Swati of Aarsh Kanya Gurukul, Kishanpur, and Gulista of Guru Ram Rai Public School, Bindal, together stood second, followed by Tanushri Khatri of Doon International, who was declared third.
Winners of a debate on female foeticide at Hindi Bhawan in Dehradun on Saturday. A Tribune photograph

JSM win despite Gaurav's 93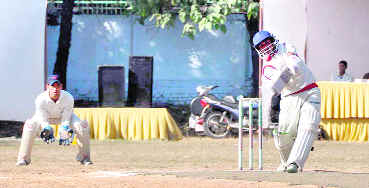 Dehradun, December 18
JSM Meerut entered the semifinals beating Shrine Academy, Haryana, by 18 runs as a fast knock by Man of the Match Gaurav Gambhir (93) went in vain in the third Uttarakhand Shaheed Girish Bhadri Cricket Tournament held on Rangers College Ground here today.
A match in the Uttarakhand Shaheed Girish Bhadri Cricket Tournament being held in Dehradun on Saturday. A Tribune photograph

Haridwar dist cricket team selected
Haridwar, December 18
After several rounds of cricket selection trials in which probable players were evaluated for various positions such as opening batsman, middle-order batsman, all-rounder, fast bowler, spinner and wicket keeper, finally the 14-member team to represent Haridwar district has been finalised.
SAF Winter Games
Snow compressor continues to remain out of order
Dehradun, December 18
The skiing practice camp for the South Asian Federation (SAF) Winter Games at Auli didn't start even today as the compressor which makes artificial snow is yet to be made functional.
Doon International School celebrates founder's day
Dehradun, December 18
It was a day of fun and frolic at Doon International School as students celebrated its founder's day in the form of an art and craft exhibition here today. A large number of students displayed their skills through their projects and models at the exhibition with great gusto and fervour.
Vivekananda House wins debate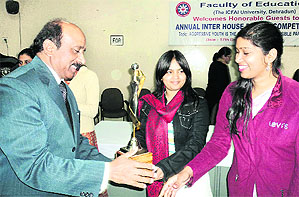 Dehradun, December 18
Annual inter-house debate competition was conducted at ICFAI University here yesterday. Vice-Chancellor, ICFAI University, Prof GP Srivastava inaugurated the competition. The faculty members welcomed the guests by presenting a sapling as a symbol of environmental protection.
A winner being awarded at the inter-house debate competition at ICFAI University in Dehradun on Friday.

Deepak's fiver powers Tata win
Dehradun, December 18
Deepak scalped five wickets to lead Tata Docomo to a two-wicket victory over Max Junior during the Beehive Challenger's Trophy Inter-District T20 Cricket Tournament being played at Matawala Bagh, Saharanpur Road, on Saturday.
Mayor inaugurates seminar on JNNURM
Dehradun, Dehradun 18
Dehradun Mayor Vinod Chamoli inaugurated a seminar related to the Jawaharlal Nehru National Urban Renewal Mission (JNNURM) here today. The seminar was organised to ensure the participation of the community in the area.
Practice camp from Dec 22
Dehradun, December 18
Strikers Sports Academy, Dehradun, will hold a three-week winter practice camp at Banu School, Race Course. Training of cricket, football, badminton, dance, karate, spoken English and personality development will be given during the camp which begins on December 22.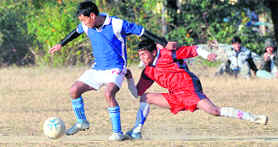 City Young, Gypsy Club win
Dehradun, December 18
In a well-fought match, City Young edged past Willis Youth Football Club 4-2 in the tie-breaker during the Shivalik Football Cup Tournament held here today at Survey of India.
Players vie for the ball during a match of the Shivalik Football Cup Tournament in Dehradun on Saturday. A Tribune photograph