Contractors cheat BSNL of Rs 33 lakh

Lalit Mohan
Tribune News Service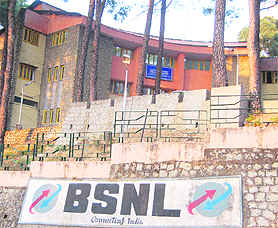 BSNL building at Dharamsala

Dharamsala, December 22
The BSNL authorities in the state have been forced to shell out about Rs 33 lakh on account of Employees Provident Fund (EPF) scam committed by contractors working for the organisation in the Dharamsala and Hamirpur circles.
The scam was allegedly committed in connivance with certain BSNL officials. The BSNL has now started the process of recovering the amount from the contractors. If the authorities fail to recover the amount from them, the liability could be shifted to certain BSNL officials posted in the Dharamsala and Hamirpur circles.
As per information available with The Tribune, the EPF authorities had detected that Rs 29,84,890 was not deposited by the contractors working for the BSNL in the circles from October 2000 to March 2010. Another Rs 2,78,020 was swindled during June 2003 to May 2008. The amount was to be deposited into the EPF accounts of temporary labour working for the BSNL contractors, generally laying telecom lines in the state.
As per the EPF rules, the contractors working for the BSNL had to deposit 12.5 per cent component of salary and an equal share from their own pockets in the EPF account of the daily wage earners.
The condition was included in tender documents and contract agreements made by the contractors with the BSNL.
A direction was also issued by the corporate accounts section of the BSNL to the bill passing authorities of the BSNL here that they must check the payment particulars regarding EPF contributions of the contractors before clearing their bills.
However, contractors did not deposit the amount in EPF account of poor labourers. They even did not deposit 12.5 portion of their share contribution in EPF accounts of labourers. Account officials of the BSNL and the higher authorities working in the circles also made the payments to contractors without verifying their documents.
As per the EPF Act, if the labourers are not paid provident fund by the contractors, principal employer (BSNL in present case) is liable to pay the amount.
As per the orders of the EPF commissioner, Chandigarh, this month, BSNL had to deposit Rs 31 lakh from its own coffers.
General manager, BSNL, Hamirpur, who is also holding the additional charge of Dharamsala these days, Ishb Singh, said they had started the process of recovering the amount from the defaulting contractors. When asked if some action would be taken against the employees who failed to check the evasion, he said if the amount was not recovered, the employees would be held liable.
The case was brought into limelight by the Anti-Corruption and Crime Investigation Cell, a Punjab NGO.