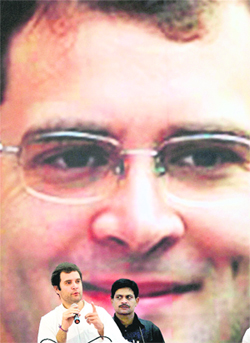 Face to face: AICC general secretary Rahul Gandhi speaks at a meeting with the elected office-bearers of the Indian Youth Congress in Chennai on Wednesday. — PTI

CBI to conduct inquiry into missing C'wealth Games files
New Delhi, December 22
Some of the crucial documents that could throw light on Commonwealth Games deals have gone missing with the probe agencies fearing that they could have been destroyed or hidden.
Time to talk of 'education for profit'
New Delhi, December 22
Top industry leaders have told the government that it was time to talk about education for profit instead of sticking to the old ideological perception of education being not for profit. The sentiment found generous mention at the two-day National Summit for Higher Education that went underway in the capital today to discover new models of increasing private participation in the sector, which is facing a crunch of institutes.
Cold wave continues in North
Chandigarh, December 22
The cold weather today tightened its grip over the entire North with minimum temperature dropping by up to 5° Celsius below normal in Punjab and Haryana. Fog and mist engulfed most parts of the region, reducing visibility to just a few metres in the morning and disrupting normal life.
Navodayas to be out of RTE Act ambit; notification soon
New Delhi, December 22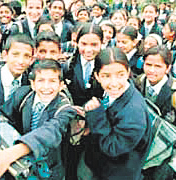 The government is all set to exempt 583 Navodaya Vidyalayas from the ambit of the Right of Children to Free and Compulsory Education Act, 2009. A notification to this effect would soon be issued after the Ministry of Human Resource Development today convinced the Law Ministry that an amendment would not be required for this purpose and a notification would suffice.
Rs 40 crore for 7 institutes: HRD Ministry has okayed Rs 40 crore to Navodaya Vidyalaya Samiti (NVS) to set up seven Navodaya Leadership Institutes in Chandigarh, Shillong, Rae Bareilley, Udaipur, Goa, Hyderabad and Uri. These institutes will train Navodaya faculty in leadership qualities.

26/11 changed coastal security approach: Antony
New Delhi, December 22
The Navy's preparation vis-à-vis the growing influence of China and the dangerously slow pace of submarine production were the key issues raised at a meeting of the Defence Ministry's Consultative Committee here today.

Karunakaran suffers stroke, critical again
Thiruvananthapuram, December 22
The condition of ailing Congress leader K Karunakaran turned critical again today and he was put back on ventilator support after suffering a stroke. The 93-year-old leader suffered acute breathing trouble following a stroke this morning and had to be put on the ventilator again, said a medical bulletin issued by Aanathapuri Hospital, where the former Kerala Chief Minister has been under treatment since December 10.
Will quit if I fail to prove CPM misusing forces: Mamata
Kolkata, December 22
Railway Minister Mamata Banerjee tonight said she was ready to quit if she cannot prove that the CPM was misusing central security forces brought for anti-Maoist operations in West Bengal.
2 Prithvi-II missiles test-fired
Balasore (Orissa), Dec 22
Two Prithvi-II nuclear-capable ballistic missiles with a strike range of 350 km were test-fired in an hour's gap today as part of user trials by the Army from the Integrated Test Range (ITR) at Chandipur off Orissa coast. "Two indigenously developed surface-to-surface Prithvi-II missiles were test-fired from the ITR and both the trials were successful," ITR director SP Dash said. The missiles were test-fired from launch complex-3 in the ITR at around 0815 and 0915 hrs, defence sources said. The test-firing of the sleek missiles, already inducted into the armed forces, were routine trials conducted by the personnel of the Strategic Force Command (SFC), they said. — PTI
Panchayat Poll
MLA, kin arrested in UP for 'abducting' 14 BDC members
Lucknow, December 22
While a ruling party MLA and his associates were arrested in Bulandshahr, one person was killed in Azamgarh and dozens arrested in Etah and other districts across the state today during the panchayat elections to elect block pramukhs.
No HC relief for Lavasa project
Mumbai, December 22
The Bombay High Court today refused to stay the order of the Ministry of Environment and Forests asking Lavasa Corporation to stop the construction at its township near Pune.