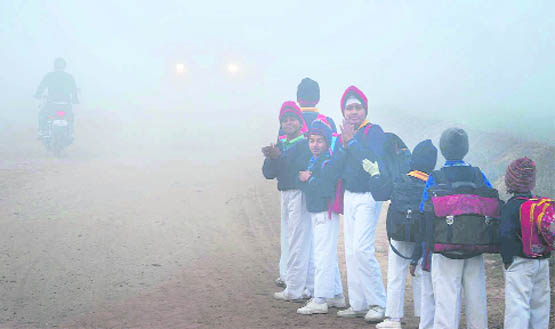 IN A HAZE: Children in Karnal on their way to school on Wednesday morning .
Tribune photo: Ravi Kumar
No threat to government, says Surjewala
Chandigarh, December 22
Criticising the Opposition parties in Haryana for spreading canards about the legitimacy of the Haryana government, the Congress seemed on the defensive as it re-iterated that it faced no threat from any quarter.
Selja: Governance system outdated
Hisar, December 22
Union Minister for Tourism and Housing Selja today called upon the youth to expose the true face of the BJP. The minister, who was addressing a Yuva Jagriti Samaroh here, said the BJP was a party which believed in dividing the nation on communal lines.
Chautala: Palwal MLA being victimised
Chandigarh, December 22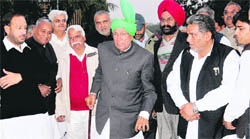 The Indian National Lok Dal today alleged that the Haryana government was acting vindictive and registering false cases against its party leaders.



INLD chief Om Prakash Chautala and his party MLAs outside the Haryana Raj Bhawan in Chandigarh on Wednesday.Tribune photo: Manoj Mahajan
KU traces IP addresses of miscreants
Kurukshetra, December 22
The Kurukshetra University authorities have managed to trace the IP addresses of the miscreants who hacked its official website and efforts are under way to figure out their locations. The internal security of the university is holding an inquiry into the matter.
Over 10,000 to appear in UGC-NET
Kurukshetra, December 22
As many as 10,401 candidates are likely to appear in UGC- National Eligibility Test (NET) on December 26 at 34 centres set up by Kurukshetra University on the campus.
Dial 01664-254000 for re-appear results
Bhiwani, December 22
The Haryana Board of School Education, Bhiwani, will declare the results of re-appear (first and second semester) secondary examinations, October 2010, of private and regular candidates tomorrow.
Chased by lawyers, litigant takes shelter in courtroom
Sirsa, December 22
A litigant at the Districts Courts was yesterday chased by advocates.
Dabwali Fire
Lives scarred forever
Dabwali, December 22
Compensation will not heal the scars of 24-year-old Suman. Nor will the money enable Gagan, Seema and Geeta to get on their feet again. Suman was nine when a devastating fire shattered her life on December 23, 1995. She suffered 100 per cent disfigurement. She cannot muster the courage to see her reflection in the mirror, she says.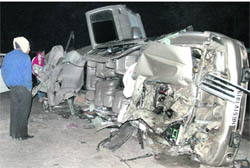 5 of family killed in accident
Faridabad, December 22
Five persons of a family died on the spot and four were critically injured when the vehicle they were travelling in collided with an oil tanker on the Agra-Delhi national highway near Sikri village late last night.



The damaged vehicle after an accident in Faridabad on Wednesday. Tribune photo: Sayeed Ahmed
XEN held for graft
Jind, December 22
An Executive Engineer (XEN) of the Uttar Haryana Bijli Vitran Nigam was caught while taking a bribe of Rs 15,500 from a resident at Safidon town in the district today during a raid conducted by the state Vigilance Bureau.
Bank manager caught taking bribe
Rohtak, December 22
A credit manager of Punjab National Bank here was caught while taking a bribe from a customer for sanctioning a loan today. He was arrested after being booked under the Prevention of Corruption Act.