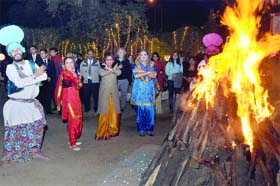 WARMTH OF CELEBRATION: Girls dance near a bonfire during a Lohri celebration in New Delhi on Thursday. Tribune photo: Manas Ranjan Bhui
Nafed selling onion through mobile vans
Expects price to reach Rs 25/ kg soon
New Delhi, January 13
After selling onion at a subsidised rate of Rs 35 per kg through its limited number of outlets, Nafed today started selling cheaper onion through mobile vans. Cooperative's chairman Bijender Singh flagged off 15 such mobile vans from near Azadpur Mandi and said their number would go up to 100.
'No work, no charges'
New Delhi, January 13
The councillors from the Walled City or the special area (as classified under the Master Plan) today said their areas had not seen any significant development in the past many years and so the corporation should waive the conversion charges of the traders.


Protests over mosque continue
New Delhi, January 13
A day after DDA demolished an 'illegal' religious structure in south Delhi's Jangpura area, tension continued to prevail as hundreds protested outside the Nizamuddin police station amidst strong presence of the police and CRPF personnel.
Security personnel keep vigil near the disputed site at Jangpura in New Delhi on Thursday. Tribune photo
Khan Market Road Rage
Postmortem done, police yet to get report
New Delhi, January 13
Although the post-mortem of the restaurant manager who died in a road rage incident in the Khan Market area, was conducted today, the police is yet to get a copy of the report.
Two students killed in accident
Greater Noida, January 13
Two final year engineering students were killed on early Wednesday when the motorcycle they were riding collided with a speeding truck, the police said.
Woman gets 7 yrs' RI for killing husband with acid
New Delhi, January 13
A Delhi court has sentenced a 53-year-old woman to seven years of rigorous imprisonment for pouring acid on her husband that led to his death.
Stopped from playing, 8-yr-old hangs self
New Delhi, January 13
Scolding your child can prove fatal, as an eight-year-old child today committed suicide at his residence in south Delhi's Mehrauli area after his mother did not allow him play outside with friends, the police said.
Man's throat slit in Dwarka
New Delhi, January 13
A 20-year-old person was found murdered by his friends today with his throat slit and the police suspecting one of his friends as the accused.
Two students held for vehicle thefts
Noida, January 13
Two engineering students have been arrested for stealing vehicles in Noida. Mukul Mittal, a second year B.Tech student of RKGIT Engineering College in Ghaziabad, and Sumit De, a second year B.Tech student of Skyline College in Meerut, were arrested on Tuesday night.
Trader found murdered
Rs 6 lakh missing
New Delhi, January 13
A 65-year-old trader from Haryana was found murdered inside a flat in east Delhi. According to information, a bag containing Rs 6 lakh is missing and the police believes that he had been murdered for the money. The incident came to light around 11 yesterday night from the Ghazipur area.
Old couple suffocated to death
New Delhi, January 13
A couple was found dead in south Delhi's Mehrauli area today, the police said. The deceased have been identified as Avinash Prasa (65), a homeopathic doctor and his wife Prerna (56), residents of B-16, Paryavaran Apartments.
15 hurt as roof of under-construction factory collapses
New Delhi, January 13
Fifteen people, including two women, were injured today when the roof of an under-construction factory collapsed here, fire brigade oficials said. The incident took place at Metro Nagar in Bawana at around 4:45 pm.
Newlywed found dead
New Delhi, January 13
A 22-year-old woman, who got married last month after an affair, was found dead under mysterious circumstances inside her in-laws' house in the Aman Vihar area of outer Delhi two days ago.
Rain likely today
New Delhi, January 13
Delhiites today enjoyed a warm and sunny day as the day temperatures shot up four degrees above normal for this time of the month to touch 24.6° Celsius. However, the weather department has predicted rain for tomorrow. — TNS