Blasphemy furore hits Pak again
Two Christian women beaten up over allegations of religious sacrilege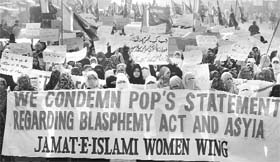 Pakistan's blasphemy law has been at the centre of a heated debate since a lower court in Punjab sentenced Aasia Bibi, a 45-year-old Christian woman, to death last year for allegedly insulting the Prophet. — AFP

Lahore, January 15
Two Christian women were beaten up and publicly humiliated by an angry mob in this city apparently over allegations of frivolous religious sacrilege.
The roughing up of the family forced them to go into hiding for fear of being killed, and the fresh incident as the country is yet to recover from the assassination of outspoken governor Salman Taseer for his support to Christian women Aasia Bibi in jail on blasphemy charges.
According to media reports, the incident was triggered over a trivial dispute between a Muslim woman and her Christian sister-in-law, both residents of an east Lahore neighbourhood. The two got into an argument on Tuesday night.
Though the matter was apparently settled, the Muslim woman walked out onto the street on Wednesday morning after her husband had gone to work and started shouting that her sister-in-law had abused Prophet Mohammed, The Express Tribune newspaper reported.
A short while later, a group of men led by Muhammad Sameer, a member of a religious organisation "keen on raising its sectarian profile," forced their way into the Christian woman's house and started slapping her, said her brother.
"Other men and women from the neighbourhood started gathering at the house too and they beat up my sister and mother. They were the only people in the house," the brother said.
"We tried our best to get her to confess her crime," Sameer said. As a member of a religious organisation, he said he could not tolerate any derogatory remarks about the Prophet.
Khadim Hazoor, Sameer's son-in-law, said faces of Christian women were blackened and they were made to wear necklaces of shoes and paraded around the neighbourhood on donkeys. The crowd showed no-mercy even as the women repeatedly touched the feet of the men denying committing blasphemy and asked for forgiveness.
Sameer said he was "very proud" of his wife for beating the Christian woman. "She beat (the woman) more than anyone else. Her hand is so swollen that she hasn't been able to make rotis since the day of the incident. I've been getting my meals from a restaurant," he said. The Christian woman's family left the neighbourhood soon after the incident.
"None of our relatives is ready to let us stay with them. They fear the wrath of the extremists, particularly after the assassination of Salman Taseer," a male member of the family said.
Karachi: 31 dead in fresh violence
Karachi: The Pakistan Government formed a judicial commission to probe into the murder of a prominent journalist, even as the fresh wave of violence and target killings in the city claimed 31 lives. Pakistan's financial hub has been in the grip of political violence since Wednesday night and as many as 31 persons have been killed so far, most of them activists of the Muttahida Qaumi Movement (MQM) and the Awami National Party (ANP). Geo television channel reporter Wali Khan Babar was among those killed in the latest violence. — Agencies