Buying a sedan?
Shell out Rs 80,000 or above as road tax
Chandigarh, January 15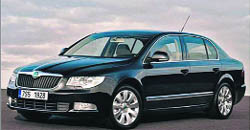 Planning to buy a luxurious sedan? Be ready to shell out more as the UT Administration is all set to hike the road tax high enough for a customer to buy a small car within that amount. The proposal, which is awaiting clearance from the UT Adviser, is expected to be notified by January-end.
All talks no action
Committees formed, but MC fails to notify bylaws
Chandigarh, January 15
It may sound strange, but for the past four years Chandigarh Municipal Corporation has failed to draft even a single bylaw for which special committees were constituted by the General House.
House gutted in P'kula
Panchkula, January 15
Goods worth lakhs of rupees were gutted in a fire that broke out at a house belonging to a Food Corporation of India (FCI) official at Sector 10 here this afternoon.


Petrol prices in tricity

New and Old per litre
Chandigarh Rs 59.08 Rs 56.49
Mohali Rs 65.12 Rs 62.33
Panchkula Rs 58.65 Rs 56.09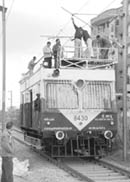 Railway level crossing closes for 10 days
Zirakpur, January 15
The railway level crossing on the Zirakpur-Kalka highway, near Dhakoli, will remain closed to vehicular traffic from tomorrow for at least 10 days due to the ongoing construction of a railway overbridge (ROB) on the highway. Earlier, the railway level crossing was scheduled to close from January 14.




Railway officials lower electric wires for the construction of railway overbridge on the Zirakpur-Kalka highway on Saturday. Tribune photo: Nitin Mittal

Leaving impression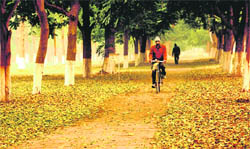 A cyclist pedals through dry leaves in Sector 9, Chandigarh, on Saturday. Tribune photo: Pradeep Tewari
Powercom: Door-to-door billing scheme not fully functional
Mohali, January 15
Power consumers are a disappointed lot with the Punjab State Power Corporation Ltd (PSPCL) failing to properly implement its scheme to collect payment of electricity bills on their doorstep.
Amended Master Plan
Wider roads await Zirakpur
Mohali, January 15
In future, there will be more breathing space along roads linking group housing and commercial projects in Zirakpur. While approving the amended master plan for Ziarkpur, the Punjab government has decided to go for greater width roads at the time of approving group housing and commercial projects in the township.
Conservation works wonders for Sukhna sanctuary
Chandigarh, January 15
The sustained efforts spread over a decade in conserving soil and water in the Sukhna wildlife sanctuary bordering the city have finally bore fruit. The overall tree density in the sanctuary rose from 162 to 450 trees per hectare and the bush density from 5,977 to 8,994 per hectare during the past few years.

Chill, fog likely to return
Chandigarh, January 15
Morning rain and cloudy weather, which kept the sun under wraps through out the day, once again plunged the day temperature by over six degree Celsius and brought the chill back today.

A child walks with his parents on a cold Saturday afternoon at Sector 17 in Chandigarh. Tribune photo: Pradeep Tewari
Workshop on hospital laws ends at PGI
Chandigarh, January 15
Prof AK Gupta, medical superintendent-cum-professor and head, PGI, while speaking on the concluding day of the two-day CME-cum-workshop on "Laws Applicable to Hospitals: Issues, Challenges and Possible Solutions, said: "When workers are hired either on service contract or on manpower contract, the Contract Labour (Regulation and Abolition) Act, 1970, and other Acts, including the ESI and EPF Acts must be followed. Also, the terms and conditions of the contract should be drafted with the help of the experts to avoid any exploitation."
High drama at HDFC Bank
Panchkula, January 15
High drama prevailed at the Sector 8 branch of HDFC Bank here today when its gates were found open at 8 am with no staff visible in the building.
Nobel Laureate visits research institute
Mohali, January 15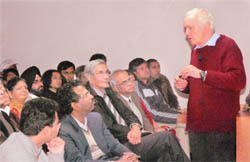 Prof Anthony Leggett, 2003 Nobel Laureate in Physics, visited the Indian Institute of Science Education & Research (IISER) in Sector 81 here today and delivered a lecture.




Prof Anthony Leggett addresses delegates during a lecture at Indian Institute of Science Education & Research, Mohali, on Saturday. Tribune photo: S Chandan
Importance of sanitation highlighted
Chandigarh, January 15 Continuing its campaign to promote the message of all-round cleanliness and adoption of healthy lifestyle, volunteers of Yuvsatta, along with artistes of "Mask Theatre" organised street plays in Mauli Jagran and Indira Colony. The programme was sponsored by WAPCOS Limited.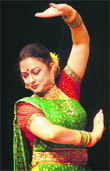 Kathak recital by Dr Swapnil impresses audience
Chandigarh, January 15
Vivacious and versatile young danseuse, Dr Swapnil Karmahe with her nimble footwork and gracious gestures captivated audience in an impressive kathak classical dance recital organised by the Indian Council of Cultural Relations (ICCR) at the Randhawa Auditorium here today.




Dr Swapnil Karmahe performs kathak in Chandigarh on Saturday. A Tribune photograph
Sufi soiree enthrals audience
Mohali, January 15
Noted Sufi singers, Kumar Bandhus, enthralled audience in a special music concert "Ibadat" organised by the Pracheen Kala Kendra at the Koser's auditorium in Mohali here today.
Khushpreet Murder
Report to be submitted next week
Chandigarh, January 15
The magisterial probe report in Khushpreet's case would be submitted next week.

Urdu poet Taseer dead
Chandigarh, January 15
"Badde shauq se sunn rha tha zamana, Tum hi so gye dastaan kehte kehte." The couplet veritably reflects the grief of the literary fraternity, which will henceforth remain bereft of the ornate poetic renditions of RD Sharma 'Taseer' (75) who passed away today following a brief illness.
RD Sharma 'Taseer'
Jewell Singh dead


Chandigarh, January 15
One of the oldest residents of Chandigarh and a much-loved teacher, Jewell Singh, passed away today. She was just shy of 98. Born in England on January 28, 1913, she got married to Surjeet Singh in 1938. After the couple moved to India, they lived in Shimla, where Surjeet Singh worked as Director, Monitoring Services, All India Radio. He also served as Information Officer to the Government of India.
Jewell Singh
Obituary
Jewell Singh (1913-2011)
I am a forgetful person and particularly hopeless with dates - birthdays and wedding anniversaries in particular. But one date that I do not forget is January 28. I do not forget it because it is Jewell's birthday. I remembered it again this morning and wondered what I could give her as a birthday present this time because it was going to be her 98th birthday. I decided 98 yellow roses as being most appropriate. I had no way of knowing that those roses would never be sent - Amrita, her youngest daughter telephoned me up, just five minutes ago, to say that she was gone.


PU guesthouses not for placement executives
Chandigarh, January 15
Non-availability of rooms in Panjab University guesthouses, due to prior bookings made by Senators and university teachers, has now become a problem for placement officers of the university departments.
Free classes for CA students from Jan 27
Mohali, January 15
A two-day national chartered accountancy students' convention organised by the Chandigarh branch of the Institute of Chartered Accountants of India (ICAI) began at Shivalik Public School, Mohali.
Foreign students dance to desi tunes
Sanghol (Bassi Pathana), January 15
As a part of an exchange programme, a team of two teachers Bev Cripps and Fiona Mullaney, along with two students Sarah Fullton and Stephanie Orr from Ashfield Girls School, Belfast (UK), are studying at Uma Rana Public School (Umarian), Sanghol.