PUNJAB

HARYANA

JAMMU & KASHMIR

HIMACHAL

REGIONAL BRIEFS

NATION

OPINIONS

LETTERS

BUSINESS

SPORTS

WORLD


PRI poll results set alarm bells ringing
Hamirpur, January 18
The results of Hamirpur Zila Parishad and Panchayat Samiti elections have shown discouraging trend for a few sitting MLAs.
MNREGA to change face of cannabis-growing areas
Chamba, January 18
In order to curb the menace of drug trafficking like bhang (charas) in the far-flung areas of Chamba district, an ambitious plan has been drawn to substitute the cannabis-growing areas with the plants bearing wild fruits and broad leaves. The scheme would generate money-spinning employment avenues to the local people for the livelihood of their families.
Encroachers have a field day as PWD sleeps
Palampur, January 18
Despite specific orders of the Himachal Pradesh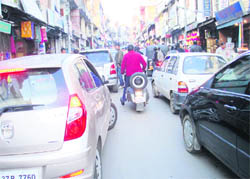 High Court and the subsequent government notification to remove all encroachments on the state and national highways, the state PWD is yet to initiate steps in this regard in Palampur and the adjoining areas.
With encroachments eating into roads, such traffic jams are common at Palampur. Photo by the writer

Politicians enter cyber world to contact voters
January 2, 2011
CID yet to make breakthrough
January 5, 2011
PCC chief's whip makes rebels fall in line
December 22, 2010
Denied ticket, BJP leaders may enter fray as rebels
December 9, 2010
Commercialisation clouds safety norms
December 8, 2010
HC puts govt in the dock
December 1, 2010
Controversies mar Billing paragliding event
November 24, 2010
Plan on satellite townships remains on paper
November 17, 2010
Bhuntar airport expansion hangs fire
November 10, 2010
Politics mars Bir Billing paragliding event
November 3, 2010
Ayurveda catches up in st
October 27, 2010
Aloe vera farming boon for changar farmers
October 20, 2010
Plan to promote organic farming a non-starter
October 13, 2010