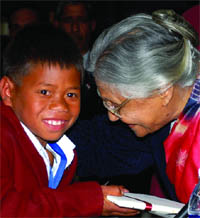 Chief Minister Sheila Dikshit interacts with a bravery awardee child at her residence in New Delhi on Thursday. Tribune photo
Few feel OK talking about death
New Delhi, January 20
Death is not a subject talked about very often, with just five per cent of the city's sampled populace being comfortable in talking about their own or somebody's death. The very mention brings fear and the thought of dying or losing a loved one sends shivers down the spine, while many avoid or do not want to discuss it at all, points out a pilot survey, carried in Delhi between December 2010 and January 2011 to gauge 'the attitude to death and dying in general public'.
India Art Summit opens with 85 galleries and 570 artists
New Delhi, January 20
From Pablo Picasso, Salavador Dali, Henri Matisse, Damien Hirst, Anish Kapoor to M.F. Hussain, the third edition of the India Art Summit, country's premier modern and contemporary art fair, kicked off today with more than 85 galleries exhibiting the work of 570 artists from across the globe.
Some of the artworks on display at the India Art Summit running at Pragati Maidan in New Delhi on Thursday. Tribune photos: Manas Ranjan Bhui
IGNOU brings courses in culinary skills
New Delhi, January 20
In a novel step, Indira Gandhi National Open University (IGNOU) is stepping into the world of cooking by introducing several degree and diploma courses in culinary science, catering and food production. The university has set up an institution, Institute of Culinary Arts, where these courses will be taught.
Metro's journey showcased
New Delhi, January 20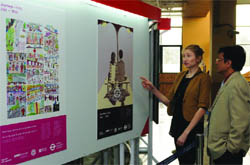 The Delhi Metro Museum in association with London Transport Museum today inaugurated a four-day exhibition, Journeys- India, at the Pragati Maidan Metro station.
A foreigner at the four-day exhibition in New Delhi on Thursday. Tribune photo
Pleasant weather continues in Delhi
New Delhi, January 20
Cold winds brought some chill for the city residents in the morning hours today but soon a bright sun emerged from the misty skies and made for a pleasant day.
Brave children meet CM
New Delhi, January 20
"Brave children are our nation's pride, who will be the role model for other children," said Chief Minister Sheila Dikshit when the National Bravery Award winning children today met her.
Man held for killing debtor
New Delhi, January 20
With the arrest of one Birender Kumar (43), the police officials of the north district have claimed to have worked out a sensational murder case in which a decomposed body was found floating in Wazirabad, on January 11.
Mystery shrouds death of teacher
New Delhi, January 20
A 43-year-old primary schoolteacher was found dead under mysterious circumstances inside her residence in the Hari Nagar area of west Delhi last night.
Mumbai man found dead in hotel
New Delhi, January 20
A regional manager of an education sector NGO found dead under mysterious circumstance in a south Delhi hotel this morning.
School bus crushes 5-year girl
Gter Noida, January 20
A 5-year-old girl was crushed to death by a school bus at Sector Beta today afternoon.
Friend Turns Thief Stolen goods worth Rs 20 lakh recovered
New Delhi, January 20
A 40-year-old man, treated like a family member by an NTPC engineer, allegedly betrayed his trust and goodwill as the police held him for committing a theft in the engineer's house and recovered all the stolen golds and diamond jewellery worth Rs 20 lakh from his possession in the Badarpur area of south-east Delhi.
3 arrested for robbing after giving lifts
New Delhi, January 20
The police has arrested three youths who allegedly robbed people after offering them lifts in their car.
Woman robbed
New Delhi, January 20
A 50-year-old wife of a senior BHEL official was robbed of Rs 2 lakh in the Vivek Vihar area of east Delhi this evening.
Rs 2.5-lakh burglary
New Delhi, January 20
Some unidentified robbers burgled the house of defence ministry officials and decamped with cash and jewellery worth Rs 2.5 lakh in east Delhi this afternoon.
Electrician electrocuted
New Delhi, January 20
A 43-year-old electrician, Suresh who was working on daily wages with BSES, was electrocuted to death while working on an electric police in Vidya Vihar of east Delhi today morning.