Teacher pierces students' ears with wire
Tribune News Service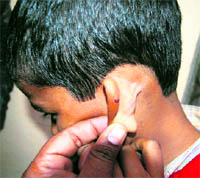 A student shows an injury mark on his ear in Haridwar on Tuesday. Tribune photos: Rameshwar Gaur
Haridwar, February 15
The issue of wounding ears of more than 18 students with a wire has created mass resentment in the city with strong condemnation of the cruel act of the teacher, who had been torturing students on a regular basis.
In view of Provincial Armed Constabulary (PAC) commandant in charge ASP Janmayjay Khanduri allegedly in controversy for siding with the accused teacher, the investigation of this case was being dealt by a five-member high-level team lead by Sub Divisional Magistrate Harveer Singh.
The investigative team today visited the school, questioned the accused teacher, principal, school management, students and parents. Accompanying the SDM were Additional Magistrate, District Education Officer Anil Kumar Bhoj, Additional Education Officer, both basic and primary, and deputy commandant of the PAC.
Shocked by this incident that took place in PAC Modern Public School injuring 40 students of Class III and IV by school mathematics teacher Vimal Chauhan, parents and local people have demanded stringent action by the school management and legal course of action for the inhuman behaviour that has affected the students both physically and mentally.
Taking cognisance of the incident, the District Education Officer has also set up an inquiry into this matter with Additional District Education Officer KK Gupta supervising the matter, assuring that strict action would be taken against the accused teacher if charges found are correct. Gupta admitted in the preliminary inquiry that the accused teacher had admitted being aggressive with the students, injuring them in the process.
The outraged parents have alleged that the school management has been trying to shield the matter and strongly condemned the behaviour of the school management and the PAC officials.
District Magistrate R Meenakshi Sundaram has also assured of stringent action as per the special investigation team submits its enquiry report into the matter to bring the culprits to the book.
Most of the parents, along with the students, revealed that the said teacher used to instill fear among the students.
"Two-three classmates had been little mischievous, but we, too, were beaten with our ears pierced with a wire. I do not want to go to this school," said a weeping Master Sanket, a student was complaining of pain in his ear.
Similarly, other students seemed to be trembling with fear and this spoke of the horrible act going on in the school that incidentally was meant for students belonging to the PAC and the Police Department.