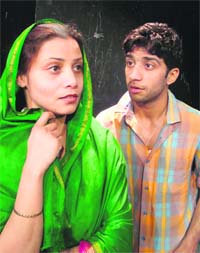 A Hindi play, 'Chakku' staged at Sunday Theatre in Jammu. A Tribune photograph
Attacks on girls unacceptable, says Mehbooba
Srinagar, February 20
Condemning the recent attack on two girls by gunmen at Durhama village in Baramulla district, PDP president Mehbooba Mufti yesterday said that such attacks on innocent and defenceless people were unacceptable.
Cong dissidents offer support to Omar
Jammu, February 20
As differences between the Pradesh Congress Committee (PCC) and the National Conference (NC) have widened, dissidents in the Congress, who owe their allegiance to the Union Health Minister, Ghulam Nabi Azad, have offered unconditional support to Chief Minister Omar Abdullah.
Security alert in South Kashmir
Srinagar, February 20
An alert was sounded across South Kashmir today to foil any militant attack, using a car, snatched by two unidentified gunmen from a civilian, in Shopian district, officials said.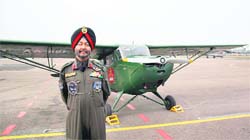 Brig AS Sidhu, senior test pilot of the Army Aviation, gives a briefing about Pushpak aircraft at the technical airport in Jammu on Sunday. Photo: Inderjeet Singh
Invitation from interlocutors
Separatists to take decision soon
Srinagar, February 20
The Centre's interlocutors have invited separatist leaders in the Kashmir valley to take part in the dialogue process. Those invited include the chairman of the hardline faction of the Hurriyat Conference, Syed Ali Shah Geelani, and the head of the moderate faction, Mirwaiz Umar Farooq.
Accelerate development in Srinagar: CM
Srinagar, February 20
Chief Minister Omar Abdullah today said it was necessary to accelerate the pace of development in Srinagar and special attention should be paid for the development of the Shehri Khaas area to restore its historical glory.
Delink education from politics, says Omar

Srinagar, February 20
Chief Minister Omar Abdullah today stressed the need to delink education from politics so that the future of children was not put at stake. Omar was addressing teachers at Bemina after laying the foundation stone of a teachers' hostel and a community hall.

Chief Minister Omar Abdullah lays the foundation stone of a teachers' hostel and a community hall in Srinagar on Sunday. Photo: Amin War
Gujjars demand tribal policy
Jammu, February 20
Demanding the formulation of a comprehensive tribal policy for the state on the pattern of the National Tribal Policy-2006, Gujjars of Jammu and Kashmir today urged the state government to set up a framework for the tribal population.


Waiting for customers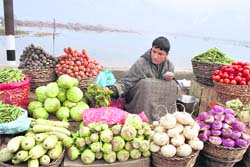 A vender sells vegetables on the banks of the Nigeen Lake in Srinagar on Sunday. Photo: Amin War
Skiing course concludes
Srinagar, February 20
The 4th skiing course organised by the Indian Institute of Skiing and Mountaineering, Ministry of Tourism, Government of India, concluded in Gulmarg today. The course was attended by 98 boys and girls from all over the country,including Kashmir. The participants were imparted training in basic, intermediate and advanced courses.
Four arrested for double murder
Jammu, February 20
The Udhampur police today claimed to have arrested four persons in connection with the murder of two MES employees on the intervening night of February 1 and 2. The police claimed robbery was the cause of the crime and one of the accused, Jagpal, was a colleague of the victims.
Placement Drive
129 GCET students selected
Jammu, February 20
A placement drive was conducted from February 18 to February 20 at Government College of Engineering and Technology (GCET) in which nearly 129 college students were selected by two multi- -national companies (MNCs), namely, Fujitsu Consulting India and Capgemini India Private Limited.
Campaign to create awareness about govt schemes
Jammu, February 20
The Press Information Bureau (PIB) of the Union Government, in collaboration with the district administration, Rajouri, organised a 3-day Bharat Nirman public information campaign at Government Higher Secondary School, Rajouri, to create awareness among the people about various schemes being implemented under this flagship programme.
Srinagar to get two modern abattoirs
Srinagar, February 20
Two modern abattoirs will be set up here at a cost of Rs 40 crore in the next two years. A modern abattoir is proposed to be constructed in Srinagar under the 13th Finance Commission at a cost of Rs 28 crore and an existing slaughterhouse at Rainawari is being modernised at a cost of Rs 12 crore.