FRI scientists give new lease of life to Bodhi tree
Dehradun, February 23
Scientists of the local Forest Research Institute (FRI) have recently sprayed a micro-nutrient solution on the Bodhi tree at Bodh Gaya, thus relieving the tree of ever-growing stress.
Eco Task Force to turn city's waste into manure
Dehradun, February 23
If everything goes according to plan, no filth or stink will remain in the capital city as the Dehradun Municipal Corporation (DMC) is planning to join hands with the Eco Task Force.
Driving Power Blues Away
UPCL to upgrade existing substations
Dehradun, February 23
Uttarakhand Power Corporation Limited (UPCL) has chalked its future strategy to bring about power efficiency in the state. Its main thrust has been to constructing new 33/11 KV substations and increasing capacity of existing substations, including upgrade (re-conducting) of 33 KV lines. The laying of new 33 KV lines in main towns through overhead lines/underground cable is also on the agenda.
CPM extends support to labourers' rally
Dehradun, February 23
The Communist Party of India-Marxist (CPM) extended its support to the rally taken out by hundreds of labourers. The CPM justified the questions put up by these labourers, which, it said, were relevant to the labour community of Uttarakhand as well.
GMVN staff get support on 3rd day of dharna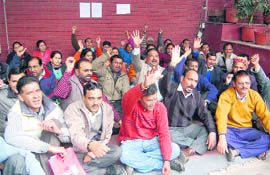 Dehradun, February 23
On the third day of the dharna staged by employees of the Garhwal Mandal Vikas Nigam (GMVN), the Rajya Nigam Karamchari Mahasangh (RNKM) too jumped into their fight by extending support to their demands of the regularisation of employees and the cancellation of 10 high-level appointments. The representatives, later in the day, met the Chief Secretary who once again assured them to look into the matter.

Employess of the GMVN and members of the Rajya Nigam Karamchari Mahasangh stage a dharna in Dehradun on Wednesday. A Tribune photograph

Oppn accuses BJP of alloting gas-based plant to private player
Dehradun, February 23
Uttarakhand Opposition Leader Harak Singh Rawat has accused the state BJP Government of resorting to a big scam linked to the allotment of a Kashipur gas-based plant to a private player.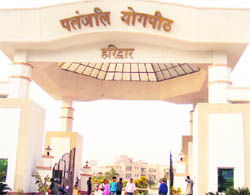 Cong leaders demand probe into Swami Ramdev's assets
Haridwar, February 23
While at the Central level Congress general secretary Digvijay Singh is casting doubts on the integrity of Swami Ramdev, at the local level Congress leaders are demanding declaration of assets of the yoga guru by himself or by a high-level probe into the national and internationally spread property.

The gate of Patanjali Yogpeeth of Swami Ramdev. Tribune photo: Rameshwar Gaur

'Time to go herbal for bigger gains'
Mukteshwar, February 23
Experts from various fields have pointed out that the time is ripe for Uttarakhand to make its mark in the production of herbal and aromatic plants, which are in great demand across the world.
PulsE Polio Drive
DM pulls up officials of Health, Education Depts
Nainital, February 23
Pulling up officials of the Health and Education Departments for their irresponsible handling of jobs under the Pulse Polio campaign, District Magistrate of Udham Singh Nagar BVRC Purshottam, has underlined that convening of meetings for the sake of formality will not be tolerated.
Panel to look into cases of animal cruelty
Pithoragarh, February 23
To prevent cruelty against animals, the Pithoragarh district administration has constituted an anti-cruelty committee at the district level.
DMC team collects food samples from shops
Dehradun, February 23
A team of the Dehradun District Municipal Corporation (DMC) today collected food samples from shops located at the Hanuman Chowk, Araht Bazaar and Patel Nagar.