Stress laid on negative effects of extreme drug resistance
Tribune News Service
Dehradun, February 28
Forty per cent of urban India has already developed resistance to multi drugs, and rural India is much better with only 4 per cent falling prey to it.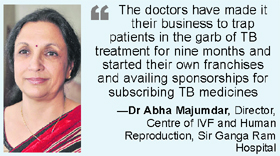 Pressing the panic button while delivering a lecture at a conference convened by the Dehradun Obstetric and Gynaecological Society, Director, Centre of IVF and Human Reproduction, Sir Ganga Ram Hospital, Dr Abha Majumdar spoke of how alarming the situation was becoming, especially even when reputed doctors throughout the country were very frequently prescribing medicines for TB to young women as a cure for infertility, even when TB did not exist in most of the cases.
She said, "The doctors have made it their business to trap patients in the garb of TB treatment for nine months and started their own franchises and availing sponsorships for subscribing TB medicines.
"Without going for elaborate and intensive tests, doctors are diagnosing women as young as 18 years old for TB treatment on flimsy grounds and unconfirmed tests to cure infertility in them. This has already made most of them multi-drug resistant and many are not even responding to the second-line treatment, thus, gradually falling in the category of extreme drug resistance".
Dr Majumdar said on the basis of blood samples, ELISA test and one tube test, doctors diagnosed patients with TB, a reason responsible for infertility, whereas after these primary tests, they should ask for pelvis laproscopy, biopsy and culture test for reconfirmation, which they did not follow normally.
"Even in primary tests, the presence of 50 per cent latent bacteria (mycobacterium tuberculosis) is not much to worry about, as, thanks to the TB vaccination we get in childhood, they are harmless to us. The TB treatment should be given only in case of the presence of active bacteria, which have multiplying effects and are capable of destroying our tissues and immune system.
"The active bacteria are also the reason for genital tuberculosis which damages fallopian tubes and uterus leading to infertility. Therefore, it is only after a combination of historic, physical examination and intensive diagnosis confirming active bacteria that TB treatment should be suggested, " she said.
Dr Majumdar also emphasised that the patients who took the TB treatment had strong chances of falling to the disease once again, when they caught the infection from the surrounding. "It is only when the patients move from high-prevalent zone like India to less-prevalent zone like the USA (only 0.05 per cent TB cases), that they are safe from infection," she said.
Consultants Dr Shweta Gupta and Dr Neeti Tiwari and chief embryologist from Sir Ganga Ram Hospital Dr Gaurav Majumdar accompanied Dr Abha Majumdar.
The second presentation was on the Polycystic Ovarian Syndrome (PCOS), commonest female endocrine disorders that affect egg formation in approximately 5-10 per cent of women, making them infertile and run the risk of catching other diseases such as diabetes, blood pressure and heart diseases.
The third presentation hinged on the problem related to endometerosis, where menstrual blood turns inward and sticks to the stomach like a lining and develops into a blood cyst. This leads to defect in the ovaries, uterus and fallopian tubes, leading to infertility.
The fourth presentation was delivered on effective and latest treatment such as Intra Uterine Insemination (IUI) and In Vitro Fertilisation (IVF) in the cases where the sperm count is below 5 million. The latest international techniques to tackle infertility were also discussed.