Soon, project to address shortage of health staff
Mussoorie, March 5
If all goes well the much-awaited rural/mobile tele-medicine project to provide the best possible health facilities in far-flung areas of the state will begin soon to address the shortage of health staff in the state.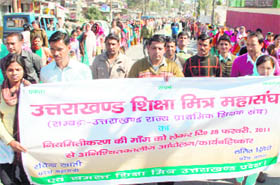 Shiksha Mitras' dharna enters 6th day
Seek regularisation of ad-hoc teachers
Dehradun, March 5
The agitated Shiksha Mitras, who are demanding the regularisation of their services, continued to stage dharna in front of the Vidhan Sabha, on the sixth day of the indefinite strike, here today.


State Shiksha Mitras take out a rally in support of their demands in Dehradun on Saturday. A Tribune photograph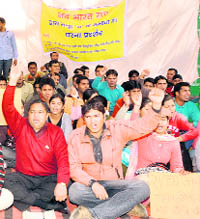 Filling of 20,000 Class III posts sought, dharna staged
Dehradun, March 5
Agitated with the state government for not providing jobs to Class III staff, members of the Nav Bharat Sangh staged a protest at the Gandhi Park here today. They also submitted a memorandum to the Uttarakhand Chief Minister, along with to other ministers of the state.




Members of the Nav Bharat Sangh protest at the Gandhi Park in Dehradun on Saturday.

Verification of Carbon Credits
Indian forestry research council gets UNFCC's accreditation
Dehradun, March 5
Adding another feather to its cap, the Indian Council of Forestry Research and Education (ICFRE) has become the first designated operational entity in the country to be accredited by the executive board of the clean development mechanism (CDM) to validate and certify functions in the sectoral scope of 'afforestation and reforestation'.
'West Asia revolution writing new history'
Haridwar, March 5
With the turmoil in western Asian countries, particularly Egypt, Tunisia, Libya, Yemen and Morocco, heralding a change in the tyrant regime and ushering a democratic system of governance, a seminar was organised at Shravananth Math Jawaharlal Nehru (SMJN) College here today. Experts from varied fields discussed on the topic, "Political upheaval in the Arab world and Indian response", which was well attended by students and people from varied fields of the society.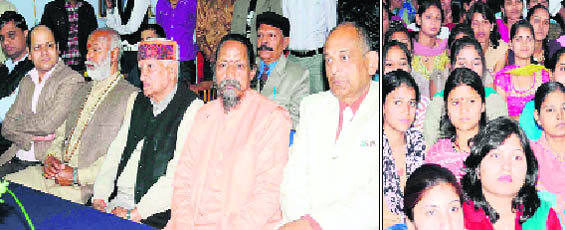 NDTV news editor Sushil Bahuguna, journalist Harsh Dobhal, Mahant Bilkeshwar Giri, Mahant Ramanand Puri, Ram Veer Moorti, Dr Ashok Mishra and; (right) participants at a seminar in SMJN College in Haridwar on Saturday. Tribune photo: Rameshwar Gaur
Lake City to witness theatrical extravaganza from March 8
Nainital, March 5
The Lake City is set to witness a bonanza of theatrical presentations on March 8 and 9. The event is being held in the town to mark the first death anniversary of eminent theatre personality and film actor Nirmal Pande, who had passed away a year back. Although Nirmal died on February 18 last year, his death anniversary as per the Hindu astrological calculations is falling on March 9.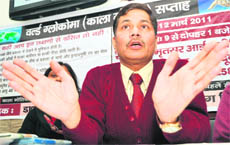 Glaucoma awareness week begins tomorrow
Dehradun, March 5
As part of the World Glaucoma Week, Amritsar Eye Clinic will organise a special awareness week for glaucoma patients from March 7 to 12 at their clinic on the EC road here.

Eye specialist Dr Dinesh Sharma addresses a press conference in Dehradun on Saturday. A Tribune photograph

UCOST made nodal org for Inspire programme
Dehradun, March 5
The Uttarakhand Council of Science and Technology (UCOST) has been made the nodal organisation for the Union Science and Technology Ministry's Innovation in Science Pursuit for Inspired Research (Inspire) programme meant to promote science among school students. The programme is presently being implemented in the state by the Director of School Education.
Married woman found murdered
Haridwar, March 5
A married woman was found murdered in an agricultural field at Kathebad village falling under Shyampur police station. The deceased Kamla Devi, aged 30, was murdered last midnight. Her family members allege it was a case of rape and then murder. As per them, the deceased had gone to nearby relative's house around 10 pm to borrow a battery torch as there was no electricity in the house. She had left behind her two minor children at home.
Suicide bid: Man recovers, gets discharged
Dehradun, March 5
Anshul Verma, who had attempted to commit suicide by consuming poison, has fully recovered and discharged from the Coronation Hospital. Verma, a resident of DAV College Road, Karanpur, had yesterday taken the extreme step.