| | |
| --- | --- |
| Eco-friendly: As the plantation season is in full swing, a woman buys some saplings from a roadside vendor at Lal Chowk in Srinagar on Friday. Tribune photo: Amin War | Nosedived: A car plunges into an under-construction culvert near the Jagti bypass in Jammu on Friday. Tribune photo: Anand Sharma |
delay in opening of central varsity
Legislators stage walkout from Assembly
Jammu, March 11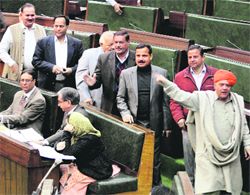 The delay in the functioning of the Central University of Jammu rocked the Legislative Assembly here today as legislators of the BJP, the Panthers Party and the Jammu State Morcha (JSM) created an uproar over the issue and charged the government with discrimination against the people of Jammu.




Legislators of the BJP and the Panthers Party shout slogans in the Legislative Assembly in Jammu on Friday. PTI
Youth Cong tells NC legislator to apologise
Jammu, March 11
Members of the Pradesh Youth Congress today threatened to teach a lesson to NC legislator Mustafa Kamal, who had allegedly passed some derogatory remarks against the last Dogra ruler, Maharaja Hari Singh.
State to take tips from Himachal to tackle monkey menace
Jammu, March 11
To check monkey menace in some parts of Udhampur and Kathua districts of the Jammu province, the state government today announced to send a team of officials of the Forest Department to Himachal Pradesh for learning techniques to address the problem.
Rs 4.52 crore for boosting cricket bat manufacturing
Jammu, March 11
Minister for Industries and Commerce SS Slathia informed the Legislative Assembly today that a Common Facility Centre (CFC) was being constructed at Sethar in Anantnag at a cost of Rs.4.52 crore to promote the manufacturing of cricket bats in the state. It is likely to be commissioned in May.
Support Bill on delimitation panel, parties urged
Jammu, March 11
The Thathri Development Front, Doda district, yesterday appealed to all political parties to rise above political considerations to support the Bill on constituting a delimitation commission in the state during the ongoing Assembly session.
Students flock to colleges, varsities for admission
Srinagar, March 11
With the beginning of the new academic year in the Kashmir valley, colleges and universities here are seeing a huge rush of students seeking admission.
800 students to benefit from water scheme
Jammu, March 11
The Romeo Force has provided a water supply scheme to Gursai Higher Secondary School in Mendhar tehsil of Poonch district. The project was inaugurated by RK Maini, Chief Education Officer, Poonch, in the presence of civilian dignitaries and senior Army officials here today.
Take up afforestation: Minister
Jammu, March 11
Minister for Forests, Environment and Ecology Mian Altaf Ahmad today asked senior functionaries of the Forest Department to make all efforts to save environment and ecology from degradation, by implementing strictly afforestation programmes launched by the state government.

Hardline Hurriyat leader Chotta Geelani arrested
Sopore, March 11
The Sopore police today arrested Ghulam Hassan Mir, alias Chotta Geelani, the Baramulla president of the hardline faction of the Hurriyat Conference led by Syed Ali Shah Geelani, for having illicit relations with a woman.
Ghulam Hassan Mir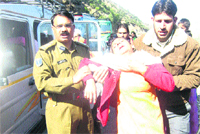 Seven injured in mishap
Jammu, March 11
Seven persons were injured when a matador they were travelling in collided with a stationary truck at Karara in Doda district this morning.


CRPF personnel help in shifting an injured woman to hospital in Doda district on Friday. A Tribune photograph