Mixed living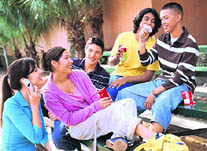 Annam Suresh
All-male and all-female hostels and PGs are all old hat now. More and more young professionals are staying in liberated, mixed accommodations, where they can live and interact without the baggage of gender barriers
SUDHA lived with three male colleagues in an apartment in Delhi for a year. Today, she lives in Hyderabad with two young men.



The good and the bad
Holi on canvas
Holi celebrations, illustrating Lord Krishna applying colour on his beloved Radha and other gopis, are depicted in various schools of miniature painting, writes Kanwarjit Singh Kang
HOLI, the festival of colours, gaiety and gay abandon, is a vernal celebration, which falls on the full moon day in the month of Phalguna. The festival is observed in India, Nepal and in countries with a large Hindu population.
Wheels of progress
Young girls in Bihar who have excelled in their studies are being given bicycles by the state government as an incentive. Parents are happy with their daughters' new-found independence, writes Saadia Azim
Nivedita, 15, had a hidden desire. She wished her family could own a car, or any vehicle for that matter. But she knew her father, a private school bus driver, could never afford one. Today, young Nivedita — one of five children — is the proud owner of a bicycle.
Scotland's Madras College
While serving in Madras in 1787, Dr Andrew Bell saw older children teaching younger ones alphabets by drawing in sand. When he returned to England, he introduced the "Madras system" of mass education, reports K.J.S. Chatrath
I wrote some time back about the Madras connection of the prestigious Yale University in the US. Visiting St Andrews, near Edinburgh in Scotland, recently, I suddenly came face to face with a board on which the words "Madras College" were written.
Nirvana@Naukuchiatal
Nestling in nature's lap, Naukuchiatal offers peace and tranquillity to travellers, weary of usual commercialised tourism spots, writes Aayush Goel
EVERY time, I would drive to Nainital, the untamed wilderness and cedar forests running parallel to the road would pull me towards the tranquillity these offered away from the usual overcrowded and commercialised tourism spots or 'valley-facing' hotels.
Common language of dance
The age-old heritage of nritya-abhinaya helps Indians appreciate ballet, writes Madhusree Chatterjee
THE millennia-old heritage of nritya-abhinaya in classical dance and mainstream cinema help Indians understand the language of ballet, say members of the 45-year-old Grand Moscow Classical Ballet.
Of spots and stripes
HoW did the leopard get its spots? How did the zebra get its stripes? The answer may be a gene, which scientists have found governs colour patterns in deer mice, the most widespread mammal in North America.
Goats are the new fixed deposit
THE basis of all human civilisations across the world has been the struggle for survival. In the arid desert region of the Thar, this struggle reflects starkness of the terrain and the harshness of the climate.
Hit shakers
Be it the 1950s or 2011, item songs have always been the X-factor of Hindi films. Sreya Basu finds out what makes dirty dancing a guaranteed success at the box office
BACK in the 1960s, Helen's name on film posters used to be magnified and got more space than the heroine's. And a dance number by Bindu or Aruna Irani was like an insurance policy for the film's success.
I want to make my absence felt: Kher
Manpreet Kaur
HAVING done 400 films in a span of nearly 30 years, veteran actor Anupam Kher is staying away from the big screen. He says it is sometimes important to stay away from the cameras and lights to make one's presence felt.