Annapurna Scheme for senior citizens
CAPD Dept failed to provide free ration: CAG
Archit Watts
Tribune News Service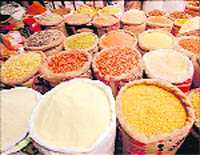 Jammu, April 8
The Comptroller and Auditor General (CAG) of India has indicted the Consumer Affairs and Public Distribution (CAPD) Department for its failure in providing free ration to senior citizens under the Annapurna Scheme.
The scheme is meant for those senior citizens who come under the National Old Age Pension Scheme/State Pension Scheme and have no regular means of subsistence.
In its annual audit report, the CAG said with a view to ensuring food security to these senior citizens, 10 kg of foodgrains (wheat or rice) per month was to be provided to them free of cost. However, the CAPD Department failed to facilitate the senior citizens in this regard.
"In the Jammu division, 4,650 beneficiaries were covered under the scheme. The department also lifted foodgrains to the extent of 35-60 per cent during 2007-09, but no stocks were lifted during 2009-10, thus depriving the beneficiaries of food security under the scheme," said the report.
It added that Rs 1.11 crore was allocated under the scheme during 2007-10, but only Rs 20 lakh was spent and the balance Rs 91 lakh was returned.
However, the Deputy Director, CAPD Department, Jammu, (Purchase and Supply) told the CAG that the non-allocation of foodgrains by the Administrative Department hindered their lifting. The report also stated that the department had identified 4,772 beneficiaries in the Kashmir valley, but it was observed that no foodgrain was issued by the Food Corporation of India (FCI) against Rs 35 lakh released to the department during 2009-10.
"The non-issuance of foodgrains not only deprived the beneficiaries of food security but also blocked Rs 35 lakh," it said.
Besides, the decision of the Union Ministry of Home and Tribal Affairs to provide foodgrains at the Below Poverty Line (BPL) rates to the people living in welfare institutions such as beggar homes, hostels for Scheduled Castes/Scheduled tribes and Backward Classes students, Nari Niketan was also not implemented.
The report said the deputy commissioners of all districts had to assess the requirements in their respective districts and communicate to the FCI through the state government about the additional allocation.
"Records of four districts of Jammu, Kathua, Rajouri and Anantnag were checked and it was found that no additional allocation was made. With the result, 3,007.63 metric tonnes of foodgrains/sugar were issued to various institutions during 2007-10 at the Above Poverty Line (APL) rates," it said.
However, the CAPD Department stated that the deputy commissioners had been instructed to verify the records before taking up the matter with the Central government.