Doon hospital awaits release of funds
Dehradun, April 14
With the government failing to release the budget for the financial year 2011-2012, the District Doon Hospital authorities are facing a difficulty in paying salaries of contractual employees and replenishing stocks of medicine under Local Purchase (LP).
Sikhs celebrate Baisakhi in Dehradun
Dehradun, April 14
The Baisakhi festival was celebrated by the Punjabi community with great enthusiasm. On the occasion, the community also commemorated the 312th Khalsa Sajna Divas.
Samiti for lifting ban on rainwater tanks
Dehradun, April 14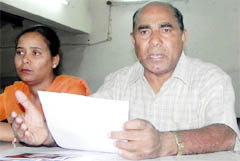 Members of the Gramin Vikas Samiti, Kaulagarh, are of the view that the Uttarakhand Government should take initiative in restarting the construction of rainwater harvesting tanks, which was banned by the Gramin Vikas Ministry of the state a few years ago.




Kunwar Singh, president, Grameen Vikas Samiti, Kaulagarh, addresses a press conference in Dehradun. A Tribune photograph
Stress laid on guru-shishya philosophy in modern era
Haridwar, April 14
With the century-old Gurukul Kangri University playing a pivotal role in Indian freedom movement and post Independence in churning out morally educated students, the traditional philosophy of guru-shisya still holds true in today's modern era.
Health And Medical Research
Guru Ram Rai college to tie up with US varsity
Dehradun April 14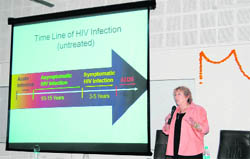 Under an international partnership programme, Sri Guru Ram Rai Medical and Health Sciences College has decided to join hands with the University of Kansas, USA, in the field of health and medical research.





Dr Donna Elaine Sweet from the University of Kansas delivers a lecture on HIV infection at Sri Guru Ram Rai Medical College, Dehradun, on Thursday.

Mayor inspects ongoing works
Dehradun, April 14 Dehradun Mayor Vinod Chamoli today visited some areas of the state capital and inspected the ongoing works.
Mussoorie cricket stadium project hangs fire
Urban Development Dept returns file to Sports Dept
Mussoorie, April 14
Sports lovers of the town, who have been seeking a stadium equipped with modern sports facilities, would have to wait, thanks to the apathy of the various departments in clearing the file of the proposed stadium project. The cricket stadium to be built at Bhilaru on the Kempty Road was among one of the announcements made by Chief Minister Ramesh Pokhriyal Nishank last year.
Tennis meet: Uttarakhand continue good show
Dehradun, April 14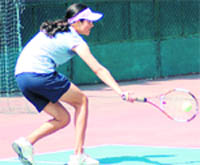 Uttarakhand continued its good show in the ongoing All-India Talent Series Tennis Tournament-2011 underway at the Shanti Tennis Academy, here today.

Dhruvpal and Mayuk of Uttarakhand outplayed Utkarsh Bhardwaj and Mritunjay Badola 6-2, 6-0 of the same state to claim the title of boys' doubles under-14. Earlier in the semifinals, Dhruvpal and Mayuk defeated Ritwik Kashyap and Danish Ahmed (DLI) 5-3, 4-1 and Utkarsh Bhardwaj and Mritunjay Badola surpassed Atishay Jain (UK) and Abhilaksh Uniyal (DLI) 4-2, 4-1.
A player in action in the All-India Tennis Talent Series Tournament in Dehradun on Thursday. Tribune photograph


Mini-marathon on April 17
Dehradun, April 14
Selaqui Education, Dehradun, will hold its first citywide mini-marathon on April 17. This Run-for-Life mini-marathon will be a 10-km run.

PBL beat Doon Combined by 234 runs
Dehradun, April 14
Pen Business Limited (PBL) posted a huge win by 234 runs over Doon Combined in the ongoing district cricket league, here today.

Body of man found in canal
Dehradun, April 14
The body of a man aged between 25-30 years was found in a canal in the Raipur area this morning. The police has kept the body at a mortuary in Government Doon Hospital for identification.