M A I N N E W S
Freedom for Sen, at last
Binayak walks out of prison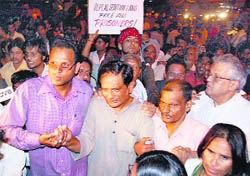 Binayak Sen being welcomed by his supporters after his release from the Raipur Central Jail on Monday. — PTI
Raipur, April 18
After remaining behind bars for nearly four months, civil rights activist Binayak Sen was released this evening from the Chhattisgarh central prison where he is serving a life sentence, three days after the Supreme Court granted him bail.
The 61-year-old doctor, who was sentenced to life imprisonment by a local court on charges of sedition and links with the Maoists, was reunited with his family amid emotional and poignant scenes, as his two daughters - Aparajita and Pranhita - jumped on to him and were locked in a tight embrace.
Sen was also hugged and kissed by his mother Anusuya who said he looked "fine". Hours before he walked free out of his cell in the Raipur prison, Additional District and Sessions Judge BP Verma directed Sen to surrender his passport as a bail condition in line with the Supreme Court order and that he be released on a personal bond and surety of Rs 50,000 each.
Verma also ordered Sen not to leave the country and appear in the high court during hearings as and when required.
Sen has been lodged in the prison since December 24 when he was convicted and sentenced to life imprisonment.
Clad in his trademark kurta-pyjama, Sen smiled and waved to hundreds of his supporters who had gathered in front of the prison where hordes of newsmen and photographers jostled with each other to get a vantage point. Chaos prevailed with his supporters and mediapersons trying to get close to him.
"I am very very happy today. I wish everybody should be happy as I am this evening. We just hugged each other. I kissed him," Anusuya said.
Anusuya said her son smiled and said nothing, but looked fine.
"He looked fine. He looked very happy. He smiled. He said nothing. We were emotionally spellbound. We couldn't say anything. Today is a special day," she added. - PTI