COLUMNS



THIS ABOVE ALL

TELEPROMPT

GOOD MOTORING

LIFE'S LESSONS

LEXICON

FOR CHILDREN



CROSSWORD

RHYME TIME
Earlier Feature


TELEVISTA


AUDIO SCAN
Golf has often been called a game of the elite because of the huge expenses needed for its infrastructure and equipment. This has kept golf away from the reach of the common man. On the other hand, many describe it as an acronym for Gentlemen Only, Ladies Forbidden. Women golfers, due to their gender, and caddies, due to their class, have faced this bias at one time or the other.
Sunil Narula checks out how they have fared despite the odds
W

omen

have faced discrimination since centuries in almost every field. Sports are no exception — whether it is cricket or golf.
India's top pro golfers in the men's category earn a huge amount of money, though the same cannot be said about our women golfers. They have to slug it out on their own without much support from the sponsors. Some big corporate houses are beginning to show interest in women's golf in India, but still a lot more needs to be done for it to come on a par with the men's golf.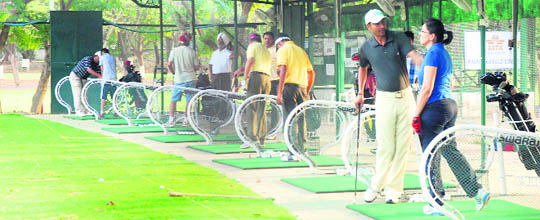 Caddying to glory
"Caddies are a breed unto themselves and they certainly earn their wage for humping this lot around four miles of land."
Dai Rees (Captain of the Great Britain Ryder Cup team, which defeated the United States at Lindrick Golf Club in Yorkshire, England in 1957)
Caddies are on the golf course for close to 10 to 12 hours a day. They have to lug the golf bag, pick out the right club for the player, assess the yardage, and for the amateurs and beginners, they also have to get into the bushes and search and retrieve mis-hit golf balls.
The rite impact
The age-old Kerala fire ritual athirathram has evoked the curiosity of the scientific world, where attempts are being made to understand if it is a natural purifier, writes Madhusree Chatterjee
A confluence of science and the Vedas occurred during the 4,000-year-old 12-day ritual of 'athirathram' — fire invocation — in the village of Panjal in Kerala's Thrissur district recently. Scientists have been trying to establish that the ancient Vedic ritual is a natural purifier of air, soil and micro-biological life — impacting plants, animals and man — through an extensive network of research in the village and in neighbouring Kochi.
A matter of will
The habit of persistence is acquired by willpower. Once you have made a choice of a long-term goal, you must stick to it, writes I.M. Soni
Will is the real and innermost centre of human personality. It is not the man who conquers the mountain. It is the hidden willpower in him that does it.
Likewise, think of a man with a weak will. He is pushed around by everybody, is brushed off as a wishy-washy, and is the one who sits on the last bench in an office meeting. He goes unnoticed in social life. He is overcome by obstacles. But the man who has a strong personality, overcomes obstacles. He finds fulfilment in career as well as life, and accomplishes even insurmountable tasks.
Win over your boss
It is important to maintain a cordial working relationship with your boss, says Ragini Gulati
Everyone has a boss in the corporate world. From CEO to the junior-most executive, each person reports to someone or the other. More than often bosses are viewed with suspicion and hostility since they hold a great deal of power. However, it is extremely important to develop and maintain a cordial working relationship with one's boss. Bosses are not only a source of knowledge but also play a critical role in shaping careers and opening windows of opportunities.