Mussoorie mourns for Sathya Sai Baba
Mussoorie, April 25
The residents of Mussoorie joined thousands of devotees in India and abroad in expressing grief at the death of spiritual leader Sathya Sai Baba on Sunday. The Mussoorie Municipal Council president, OP Uniyal, said in his condolence message that it was sad to hear of the demise of a pious saint, Sathya Sai Baba.
Governor for holding medical camp for street children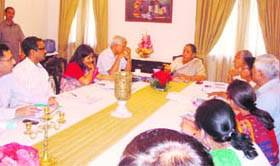 Dehradun, April 25
Governor Margaret Alva presiding over a meeting of the executive committee of the Uttarakhand State Council of Child Welfare at Raj Bhawan here today called for a health check-up camp for street children in Dehradun on a priority basis.

Uttarakhand Governor Margaret Alva at a meeting of the State Council of Child Welfare in Dehradun on Monday.
Council withdraws exam boycott
Dehradun, April 25
The examinations at different degree colleges in Dehradun went off peacefully as the Student Council of DAV (PG) College cancelled its plan to boycott the ongoing university examinations from today following assurances by Prof SK Singh, Vice-Chancellor, HNB Garhwal University.
Book fair concludes
Dehradun, April 25
A five-day book fair organised by the IP Arts Society and the National Book Trust at Hotel Drona concluded in Dehradun today. The fair was a treat for book lovers in the Doon valley and attracted people from various age groups.
Woodstock beat Welham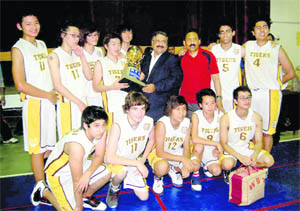 Dehradun, April 25
Woodstock School, Mussoorrie, beat defending champion Welham Boys' School (Blue) in the final to annex the 25th All-India Golden Jubilee Basketball Tournament Trophy, here today. Woodstock got past the host team 17-17, 9-16, 21-15, 34-20. Vir of Welham scored 16 points, the maximum for his side.

The Woodstock School, Mussoorie, team that won the All-India Jubilee Basketball Tournament held at Welham Boys' School, Dehradun, on Monday. A Tribune photograph
U'khand Police win cricket title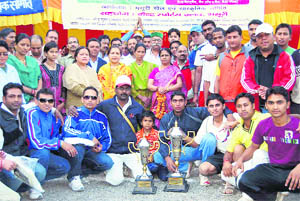 Mussoorie, April 25
Uttarakhand Police defeated Old Cantonment Mussoorie by 46 runs in the final of the Anil Godiyal Memorial six-a-side Cricket Tournament here yesterday. In a one-sided match played on the Survey of India grounds, Uttarakhand Police, batting first, scored 110 runs in 5 overs without losing any wicket.
The Uttarakhand Police team with the trophy of the Anil Godiyal Memorial Cricket Tournament in Mussoorie.

Fitness Solution enter quarterfinals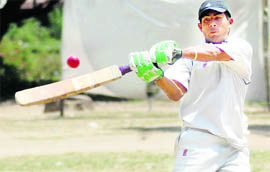 Dehradun, April 25
Fitness Solution qualified for the quarterfinals, defeating Abhimanyu Cricket Academy (ACA) by three wickets during the Beehive Twenty-20 cricket tournament at Matawala Bagh, here today.


A batsman in action in a match in the Beehive Cricket Tournament at the Matawala Bagh grounds in Dehradun on Monday. A Tribune photograph
Meeting of engineers held to boost technology
Dehradun, April 25
The quarterly meeting of the 13th Institute of Electrical and Electronics Engineers (IEEE), Delhi section, was held at Graphic Era University (GEU) to foster innovations and boosting technology, here yesterday.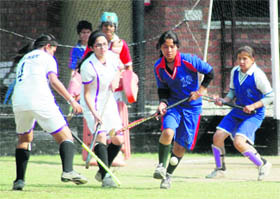 Hockey Tournament
Welham, MKP win league matches
Dehradun, April 25
Welham Girls' School (A) and MKP (PG) College scored identical 4-0 wins in their respective league matches to book the semifinal seats in the Welhams' Invitational School Hockey Tournament, here today.

Players in action in the Welhams' Invitational School Hockey Tournament in Dehradun on Monday. A Tribune photograph