Actress Zohra Sehgal's Doon Connection
She turned 99 on April 26
Yamini Sunwar
Tribune News Service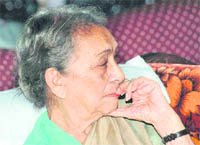 Uzra Butt, Zohra Sehgal's sister, during her visit to Dehradun in 2006
Dehradun April 26
The lady with aristocratic legacy and her accolades she won for embellishing the Hindi cinema with her choreography as well as acting are still afresh in the minds of her admirers.
Today, on the 99th birthday of Sahibzadi Zohra Begum Mumtaz-Ullah Khan, well known as Zohra Sehgal, Manoj Panjani, a senior research scholar of Dehradun, shed light on her life and her connection with Uttarakhand here.
"Zohra was born in 1912 at Saharanpur, Uttar Pradesh, in an aristocratic family of Rohilla Pathans. She grew up in Chakrata (now in Uttarakhand) where the family owned a bungalow. In that bungalow she liked climbing trees and playing games, which reluctantly infused a rebellious streak in her," he said
During her maiden days, Zohra resided in Dehradun at her ancestral home in the Dalanwala area of the city. It now houses the famous Welham Girls' School. As per her biography, she still recalls the memories her childhood she spent in her home with her siblings and her outings at the hill station of Mussoorie along with her younger sister Uzra, who was a famous Pakistani theatre artiste.
Zohra had her education at Queen Mary's College in Lahore where girls of aristocratic families observed strict parda (veil) norm. While studying in Lahore, she decided that she was not going to get married and desired to become an actress.
"One of her uncles who was studying medicine in England arranged for an apprenticeship with a British actor after which she decided to become a dancer. She excitedly joined Mary Wigman's Ballet school of Deresden. Here in Germany she met Uday Shankar who was touring Europe and saw him performing the Shiv-Parvati ballet. Impressed by the poignant skills of Shankar, Zohra immediately joined his dancing troupe in 1935," said Panjani.
However, in 1940, Uday Shankar set up his dance academy in Almora where Zohra worked as a dance teacher and also taught Guru Dutt, the legendary Hindi filmmaker, as a student.
In the dance institute, Zohra also met Kameshwar Nath Sehgal, who was so enamoured by her dancing skills that he wanted to convert himself and marry her. Impressed by his humble gesture, Zohra married him with none of the two getting converted.
"She later went to Mumbai (earlier Bombay) along with her sister Uzra and started working with Prithvi Theatre and the Indian People's Theatres Association. In 1946, she made her debut as an actress in two of the art movies like 'Dharti ke Lal' produced by KA Abbas and 'Neecha Nagar' produced by Chetan Anand. Neecha Nagar was the first Indian film that was screened at the first Cannes Film Festival where, Zohra's acting was very much appreciated by the audiences," he added.
Zohra later on worked as a choreographer in Guru Dutt's directorial debut "Baazi". She choreographed two famous songs "Taqdeer se bigadi huyi..." and "Suno gazar kaya gaye…". She also has the credit of directing the legendary dance sequence in "Awaara", "Aar Paar" and "Mr and Mrs 55".
While recalling her acting work, Panjani said: "Besides doing choreography, Zohra went to England and worked in television shows produced by BBC TV. "Jewel in the crown", "Amma and Family" and "Tandoori Nights" are some of the renowned television series that won her many accolades in acting."
"At 80 plus, she made her debut in the Hindi film industry and worked in some of the classic movies like "Dil Se", "Hum Dil Chuke Sanam", "Veer Zara", "Cheeni Kum" and many more. Apart from these, the lady has also acted in some of the Hollywood films like "Bend it like Beckham", "Mistress of Spices", "Bhaji on the Beach" and "The Mystic Masseur"," he signed off.