State govt misusing Centre's aid: Arya
Nainital, May 8
The Congress has been able to drive home the point of rampant corruption in the state among the electorate through its ongoing Satyagraha Yatra that was started a week back from Dharchula in Pithoragarh district. Party leaders claim that the yatra has been successful in garnering public support as it has moved through areas like Dharchula, Munshiyari, Dwarahat, Chaukhutiya, Mahsi, Bhikiyasain, Manila and Mauli Khal.
Samiti seeks share in dam project benefits
Dehradun, May 8
The Pratap Nagar Jankalyan Samiti has urged Chief Minister Ramesh Pokhriyal Nishank to pay attention to the problems the residents of Pratap Nagar were facing due to the setting up of a hydro-electric dam project in the region, and has demanded their share in the benefits from the project.
Students celebrate Red Cross Day
Dehradun May 8
The students of the local Graphic Era University celebrated Red Cross Day on the premises of their college and spread awareness against the ill effects of urbanisation on human beings, here today.
Sudden rain causes landslides in Byans valley
Pithoragarh, May 8
Sudden change in the weather resulted in sufficient rains and snowfall in the higher Himalayan region of the state and brought cheers to the horticulturists, but it has also posed some problems for the people in the higher valleys.
Seminar on career guidance organised
Dehradun, May 8
An awareness seminar especially for the students of Classes XI and XII on career guidance was organised by Young Sikh Leaders at Doon Interantional School, Dehradun, here today.
Students spread awareness on legal issues
Dehradun, May 8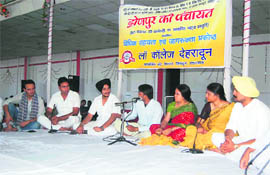 The Law College, Dehradun, organised a legal awareness camp in Adhoiwala village, Raipur block, here today. Justice Tarun Aggarwal, senior judge, Uttarakhand High Court, was the chief guest on the occasion while Vijay Bhatt, member, Bar Council of India, and Prashant Joshi, member secretary, state legal services authority, Nainital, accompanied him as a special guest.

A play "Dronpur ki Panchayat" is staged at a legal awareness camp organised by students of Law College, Dehradun, on Sunday.
Leopard intrudes into Haridwar ashram
Haridwar, May 8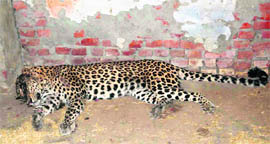 A day after an elephant was electrocuted to death in a rural area, a leopard intruded into a local ashram today. According to the local residents, at about 9 am, the inmates of Tyagi Ashram, which is situated adjacent to the famous Kali Peeth temple on the Chandi Devi road, a leopard was spotted in a cow shelter.

A leopard trapped in a cow shelter in an ashram near Chandi Devi, adjacent to Chilla Forest Range of Raja Ji Park, falling in Pauri Garhwal district, on Sunday. Tribune photograph: Rameshwar Gaur
Bhagat addresses IMS students
Dehradun, May 8
Indian writer Chetan Bhagat addressed students of the Institute of Management Studies (IMS), Dehradun, during a two-day career seminar, here yesterday.
Assn for recognition to sign language
Dehradun, May 8
Neena Sangeet Sharma, Director, Synergy Consultant, was appointed as the chairperson of the Deaf Welfare Association in a general body meeting that was held here today.
Marathon against corruption today
Dehradun, May 8
As part of a nationwide exercise to highlight alleged corruption cases against the Congress-led UPA government at the Centre, the Bhartiya Janata Yuwa Morcha's (BJYM) Uttarakhand unit will hold a marathon in Dehradun tomorrow.
Cricket Tourney
Vidya Mandir down Super Challengers
Dehradun, May 8
Maharishi Vidya Mandir beat Super Challengers by 63 runs in the ongoing Shri Babu Farid Under-15 Memorial Cricket Tournament held at Sudhowala jail ground, here today.
Roller Skating Championship
Aryan School wins overall trophy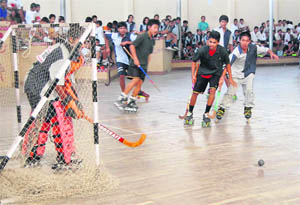 Dehradun, May 8
The Aryan School got 64 points to be crowned with the overall winning trophy of the 17th Doon District Inter-School Roller Skating Championship that concluded here today at Summer Valley School. Summer Valley had to be content with the second position, getting 53 points. Kasiga School scored 46 points and got a bronze medal.
Players in action in a roller hockey match at Doon District Inter-School Roller Skating Championships at Dehradun on Sunday. Tribune photo