Consumers denied facility to buy power for 24 hours
Dehradun, May 5
The consumers who have opted for 'embedded category', which means facility to buy power even for 24 hours from energy exchange under open access are not getting this facility from Uttarakhand Power Corporation Limited (UPCL). The consumers also complained of the UPCL's
Forest Dept ill-prepared to tackle wildfires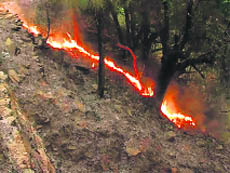 Pithoragarh, May 5
As the fire season begins in the hills, the Forest Department is ill-prepared to fight the wildfire incidents that are now becoming frequent with the rise in the temperature. "We have already lost 10 hectares of the reserve forests in fire since April 25," said TT Gyansambandham, District Forest Officer (DFO), Pithoragarh.




A forest fire in Pithoragarh district.

Globalisation has hit marginalised people:Bhatt
Nainital, May 5
Environmentalist Chandi Prasad Bhatt has stated that planners must honour local wisdom when they are devising plans and strategies for development, particularly for mountain regions like the Himalayas. Bhatt was delivering the valedictory lecture at the International Geography Union (IGU) Commission Conference on "Local and Regional Responses to Globalisation in the Mountains and Marginal Areas of the World" which ended on Wednesday evening here.
BJP women activists counter Cong charges
Haridwar, May 5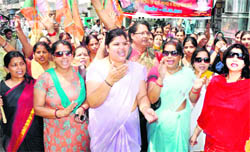 With the Assembly elections scheduled in Uttarakhand later this year, a sudden spark in both the main rival parties BJP and the Congress is easily visible. Agitations, forums, public rallies, party workers' meetings and condemnation of each other's working are witnessed here daily.


Activists of the BJP Mahila Morcha stage a rally in Haridwar on Thursday. A Tribune photograph

Forest Service: Conference on training modules held
Dehradun, May 5
The Directorate of Forest Education (DFE) and the Central Academy for State Forest Service, Dehradun, on Thursday organised a day-long conference on improving in-service training modules for state Forest Service officers.
Helpline launched to assist pilgrims

Dehradun, May 5
To help pilgrims, coming from all over India for the Char Dham yatra, have access to facilities of health, travel, legal aid, religious trips and administrative support, the VHP cadre launched its Hindu helpline here today.



Pravin Togadia, international general secretary of the Vishwa Hindu Parishad, is felicitated at a function in Dehradun on Thursday. A Tribune photograph

Body of missing Nepalese youth found
Nainital, May 5
The skeletal remains of a Nepalese youth, who had been reported missing a few days ago, were found near the Naini Peak area of Nainital on Wednesday.
Kumaon nigam makes arrangements
Pithoragarh, May 5
Keeping this year's Kailash Mansarowar yatra, beginning on June 1, in mind, the yatra officer of the Kumaon Mandal Vikas Nigam (KMVN) in Dharchula has started registration of porters and ponies meant for carrying luggage, and at times, even pilgrims on their backs on the tough route of this yatra.
Private medical practitioners
Dehradun, May 5
District Magistrate Sachin Kurve has directed the senior officials to take action against private clinics and practitioners working without a valid licence in Rishikesh.