Cool Splash

Gushing water from a hose gives relief to this boy in sweltering heat in Mohali on Monday. Tribune photo: Vicky Gharu

Whither Child Labour Laws?

In violation of the tobacco Act, a boy sells gutka, cigarettes etc on a roadside at Sector 44 in Chandigarh. Tribune photo: Vinay Malik
Seeking bigger role, Panchkula councillors boycott MC meet
Panchkula, May 9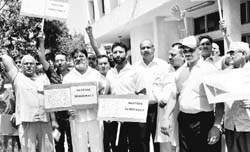 Cutting across party lines, elected councillors came together to demand a councillor rather than an official should chair the municipal council meeting that was scheduled to be held Monday. The standoff eventually led to the adjournment of the meet, which has yet to be rescheduled.

Councillors raise slogans outside MC office at Sector 4, Panchkula, on Monday. A Tribune photograph
Excess iron found in water
Fatehgarh Sahib, May 9
Water samples collected from hand and submersible pumps by health officials in 38 of the 75 villages in the Khamano block of Fatehgarh district have been found to contain excessive amounts of iron. The officials have urged villagers to drink only the water provided by the water supply department and avoid drawing water from sources that may have high levels of iron. The villagers were also made aware of the harmful effects of consuming water with high content of iron.

Disability no bar for this cricket buff
Chandigarh, May 9
At first sight, everyone ignored him, as if he was just another cricket fan with disability. But all of a sudden, he attracted all the attention, when cricketer Yuvraj Singh called him by his name and met him like an old friend.



Dharamvir Singh congratulates Yuvraj Singh after the victory of the latter's team.

Cops still clueless about shootout suspect
Mohali, May 9

A day after an unidentified youth shot and injured two people in Phase 3 B1, the local police launched a manhunt on Monday for the suspect in the town and as well as in neighbouring Chandigarh but without any success so far.


Police officials check identity documents of occupants of a paying guest house at Phase 4, Mohali, on Monday. Tribune photo: Vicky Gharu
Imposition of house tax deferred again
Chandigarh, May 9
Dodging the imposition of house tax in the city, the house tax assessment committee has deferred a decision on this issue once again. Committee chairperson Sheela Devi deferred this agenda item in a meeting here today.
10 km from UT, Jainti Majri has poor bus service
Jyanti Majri (Mohali), May 9
The historic village having 550-year-old Jyanti Majri temple is just about 10 km from the state capital Chandigarh. However, when it comes to connectivity through the state-run roadways, including the Chandigarh Transport Undertaking (CTU), hundreds of residents of about ten villages in the area are at the mercy of rickety auto-rickshaw operators who fleece the gullible villagers.
Officials visit proposed site for bus stand
Zirakpur, May 9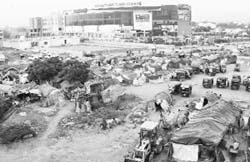 The move to set up a bus stand in Zirkapur today tagged ahead with the district administration carrying out a feasibility survey. The Mohali Deputy Commissioner, accompanied by the Mohali SSP and other local officials, today visited the proposed site for the bus stand that would be constructed by the Punjab Infrastructure Development Board (PIDB). The officials also checked the traffic congestion problem in the town.
The proposed site for the bus stand at Zirakpur. A Tribune photograph
PGI to tone up cancer facility
Bed number to go up to 113
Chandigarh, May 9
After setting up an Advanced Trauma Centre, the PGI is now set to strengthen its Regional Cancer Centre (RCC) by increasing its bed capacity to 113 against the current 23.
Beant Singh Memorial
Rs 4.88 cr for media centre
Chandigarh, May 9
The governing body of the Beant Singh Memorial and the Chandigarh Centre for the Performing and Visual Arts today approved Rs 4.88 crore for the completion of the building of media centre of the Beant Singh Memorial.
CGC seeks UT nod to axe dead trees
Chandigarh, May 9
The Chandigarh Golf Club is all set to remove dead trees that are a scar on the greens of the Chandigarh Golf Club.
Show of strength in Kalia's support
Not even a BJP whimper at CBI office for Swarna Ram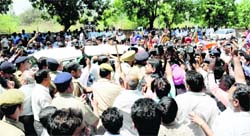 Chandigarh, May 9
The Chandigarh Police faced a tough time to deal with Bharatiya Janata Party (BJP) activists, who assembled in hundreds in front of the Central Bureau of Investigation (CBI) office at Sector 30 to extend support to Punjab Industries Minister Manoranjan Kalia.
BJP activists block the road in front of the CBI office at Sector 30, Chandigarh, on Monday. Tribune photo: Manoj Mahajan
Young NRIs meet Patil
Chandigarh, May 9
A group of 25 students and young professionals of Indian origin called on Punjab Governor and UT Administrator Shivraj Patil at Punjab Raj Bhavan here today.
Blood camp to mark Nightingale Week
Panchkula, May 9
Doctors and staff participated in the voluntarily blood donation camp on the fourth day of the 'Nightingale Week' being celebrated at the General Hospital, Sector 6, here today.
'Sur Wid Taal' from May 22
Chandigarh, May 9
Riding on the incredible success of 'Sur Wid Taal- Talent Hunt-2010', the S-4 Trust and Gurukul Vidyapeeth yesterday announced the launch of the second edition of 'Sur Wid Taal- Talent Hunt-2011', which would kick off at the Government Museum and Art Gallery, Sector 10, on May 22.


Problems soar as MC snores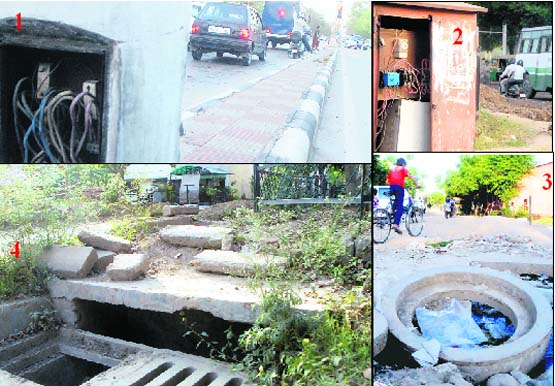 Open electricity junctions on a road separating Sectors 31 and 32 (1) and at the entry point to the Sector 43 bus stand (2) pose threat to commuters; 3 & 4. Open manholes at Colony No 5 and Sector 40-C in Chandigarh expose negligence on part of the municipal corporation authorities. Tribune photos: Vinay Malik
Domestic violence
PEC students counsel slum women
Special women cell likely at Sector 25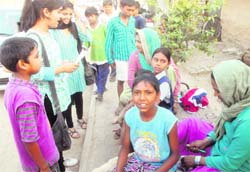 Chandigarh, May 9
In a unique effort, nearly 71 students of PEC University of Technology today interacted with women in a colony at Sector 25 and suggested them ways to tackle domestic violence. A special women counselling cell, which will be run by students, is likely to come up in the community hall of Sector 25 colony.
Students of BE I (second semester), PEC University of Technology, interact with slum kids and women during an awareness campaign on Monday. Tribune photo: Vinay Malik
No four-wheelers on campus
SOPU opposes PU authorities' decision
Chandigarh, May 9
Objecting to Panjab University authorities' decision of not allowing students to keep four-wheelers in the hostel, the Students Organisation of Panjab University (SOPU) today submitted a memorandum to the university authorities.
PU
Now, staying in touch with campus a click away
Chandigarh, May 9
For Panjab University passouts, staying in touch with the alma mater is a click away. A new online enrolment form for the alumni association membership and an alumni's community on popular social networking website- Facebook were announced in the 40th annual general body meeting and scholarship award function. The events were organised by the Panjab University Alumni Association (PUAA) at the Golden Jubilee Hall on the campus.