Court writes Nithari killer's death warrant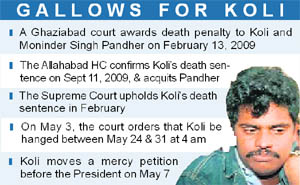 Ghaziabad, May 9
A special court has ordered that Surender Koli, sentenced to death in the sensational Nithari serial killings case, be hanged between May 24 and May 31, following which he has filed a mercy petition before the President.
CBI Judge Shyam Lal issued the death warrant for execution of Koli, 39, after the Supreme Court in February confirmed the death penalty awarded to him in the case related to rape and murder of 14-year-old Rimpa Haldar, CBI advocate Jai Prakash Sharma said today.
In the May 3 order, the judge said Koli should be hanged between May 24 and May 31 at 4 am.
Following the issuance of the death warrant, Koli moved a mercy petition before the President on May 7, the CBI counsel today told a court that fixed May 13 for further order in the matter.
Koli was sentenced to death along with his employer Moninder Singh Pandher, 54, by the Ghaziabad court on February 13, 2009. It was the first of the Nithari killings cases to be decided. The Allahabad High Court had confirmed Koli's death sentence on September 11, 2009, while acquitting Pandher of the charges.
The Supreme Court upheld the death sentence in February, saying the case was "horrifying" and "barbaric" and "no mercy can be shown to him".
A Bench of justices Markandey Katju and Gyan Sudha Misra had said, "Koli has not retracted his confessional statement" and the circumstances in which the crime was committed were "premeditated", thus falling in the "rarest of rare category".
"In the statement, he (Koli) described how he allured the girls and then strangulated them. He also confessed that he used to have sex with dead bodies and would eat parts of human body after cooking them," the Bench had said in the order.
Sixteen cases were registered against Koli after Nithari serial killings came to light in December 2006, following discovery of human remains from a drain behind Pandher's house in Noida on the outskirts of Delhi. — PTI