Dowry-seeking groom arrested before wedding
New Delhi, May 13
A bridegroom landed behind bars after his father allegedly demanded dowry just before the marriage ceremony was to begin, the police said.
Biometric attendance in MCD schools soon
New Delhi, May 13
The Municipal Corporation of Delhi (MCD) will now focus on its role in the implementation of Right to Education Act, 2005, which is to impart education up to 14 years of age. It will, thus, extend its schools up to middle level, said Dr Mahender Nagpal, the new education committee chairman.
Center's help sought to clear the air about CM's allegation
New Delhi, May 13
The MCD has sought Center government's help to clear the air about the administration in the civic agency in view of recent allegations leveled by Chief Minister Sheila Dikshit.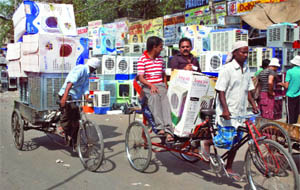 The rising temperature in Delhi has given good business to the cooler sellers of the Capital. Tribune photo: Manas Ranjan Bhui
Delhi told to pay Rs 100 cr to Ashok Leyland
New Delhi, May 13
The Delhi High Court today directed the state government to release the more than Rs 100 crore payable to Ashok Leyland for the supply of low-floor buses.
Temp dips slightly
New Delhi, May 13
There was no respite from the simmering heat conditions in Delhi on Friday even as the mercury levels saw a slight dip, with the maximum temperature settling at 40 degree Celsius, three notches less than yesterday.
Cab kills 1-yr boy, injures mother
New Delhi, May 13
A one-year-old boy was killed while his mother injured when the two were hit by a speeding car in the Dabri area of southwest Delhi today morning. The deceased has been identified as Manish and his mother as Sushma. The incident was reported from the Dabri market area around 9 am. Sushma's husband is a guard.
Jilted cabbie kills girl
New Delhi, May 13
The Dwarka police has arrested a 25-year-old taxi driver for allegedly murdering a 22-year-old girl who did not respond to his love proposal.
Three held for selling fake bus passes
New Delhi, May 13
A racket of selling forged Delhi Transport Corporation bus passes was busted with the arrest of three people including two DTC conductors, the police said on Thursday.
Rs 10-lakh relief for tycoon's widow
New Delhi, May 13
The Delhi High Court today awarded compensation of Rs10 lakh to Nina Pillai, wife of 'biscuit king' Rajan Pillai, on her petition seeking compensation from the central government for his custodial death in Tihar Jail in 1995.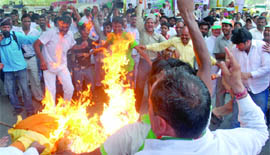 Congmen protest Rahul's arrest
New Delhi, May 13
A large number of Congress workers staged a dharna at Loni Border in protest against the arrest of AICC general-secretary Rahul Gandhi by the UP police in Noida and high-handedness of the Mayawati government to suppress the farmers' movement. The dharna was held in the leadership of DPCC president Jai Prakash Agarwal.
Activists of the DPCC burn an effigy of UP Chief Minister Mayawati to protest against the arrest of Rahul Gandhi in Bhatta Parsaul, Grater Noida, in east Delhi on Friday. Tribune photo: Manas Ranjan Bhui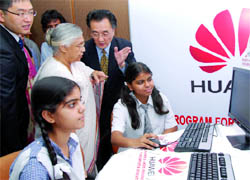 Govt to add computer education to school syllabus
New Delhi, May 13
Computer education will be given in the government schools in Delhi so that children of the poor families enrolled with these schools could also be well-versed in the latest technology.
Delhi Chief Minister Sheila Dikshit flanked by Max yang, CEO of Huawei India, and Yao weimin,VP, Huawei India (R), at the launch of ' E-HOPE for Computer Education' in New Delhi on Friday. Tribune photo: Mukesh Aggarwal

RWCs: Coordinators apprised of duties
New Delhi, May 13
The process of forming the resident welfare committees (RWCs) has taken a step further today after over 1,500 applications were filed by the Resident Welfare Associations (RWAs) for the formation of the committees in their wards from across the city.
Blacklisted Sikh NRIs get clean chit
New Delhi, May 13
The union government has deleted the names of 117 NRI Sikhs from the blacklist. The government had blacklisted them suspecting their involvement in the militancy, said Delhi Sikh Gurdwara Management Committee chairman Paramjit Singh Sarna.