| | | |
| --- | --- | --- |
| | ARTICLE | |
Economic woes of the US
Failure to create enough jobs is main worry
by Jayshree Sengupta
With the elimination of Osama bin Laden, President Obama's rating has gone up by 11 points to 57 per cent. But his rating as a solver of America's economic problems has fallen to 34 per cent — down by 3 points. What are the main problems on the economic front that the US is facing?
With the GDP growing at 1.8 per cent in the first quarter of 2011, down from 3.5 per cent in the last quarter, and the $14 trillion federal debt which is not showing any signs of abatement, what is going to be the state of the economy in the next one year? To many top analysts, the main problem with the US is that it is not able to create more jobs, and whatever jobs have been created are not as much as expected. Unemployment is running high at 9 per cent of the labour force, which is a big number as compared to India. To revive the economy, interest rates have been kept low and recently the Federal Reserve's Governor Ben Bernanke announced that there won't be any changes in the interest rates which gave assurance to industry, and stock prices went up because people were going to be encouraged to invest in shares. The Fed has managed to keep interest rates near zero.
The Obama administration has tried its best to revive the economy and went for Quantitative Easing (QE) in which the Federal Reserve bought about $1 trillion in long-term treasury bonds in 2009. Thus, a huge amount of freshly printed dollars were released in the US economy to increase consumer spending and to revive bank lending to small and medium businesses which had been reduced since the financial crisis began. The Federal Reserve bought government bonds worth $600 billion again in 2010 and now QE2 is going to be over soon. From such a heavy injection of dollars, quite a substantial amount went to the emerging market economies to look for higher returns and resulted in heavy FII inflows into those countries. Even India got its share which helped in stoking inflation. The RBI and many other countries' (especially China) central banks have been intervening in the currency markets not to let their currency's value rise against the dollar or else it would hurt their exports.
Thus, the value of the dollar has been fluctuating and when it recently fell against major currencies, the price of gold and silver rose rapidly because people became shaky about holding dollars as a reserve asset.   The cheaper dollar, however, is going to boost US exports and the US trade deficit, which has been ballooning, should come down. After Osama, the dollar has risen and oil prices have fallen, and silver and gold prices have also taken a hit. There are several other problems in the American economy like the double dip in the real estate market. Recently after recovering, the real estate market in the US is facing a low point and house prices are falling. Unless the mortgage loans are renegotiated, many Americans may lose their homes like in 2008.
 The fiscal deficit is too high at 10 per cent of the GDP and according to conservative economists who are advising the US government, the fiscal deficit problem is the main problem. The reasons behind the huge fiscal deficit are tax cuts during the Bush administration and the Iraq and Afghan wars which have drained the US government of $1.1 trillion. But Nobel Laureate Paul Krugman does not agree that controlling the fiscal deficit is all that urgent and thinks that the main problem is unemployment and for which the government will have to spend on education, skill training, etc, so that jobless youth become employable. To earn more revenue the government will have to raise taxes, but increasing taxes is heavily opposed by the Republicans.
So, where is the money going to come from for Mr Obama's ambitious medicare programme and military spending? Quite clearly the government is broke and the revival of the economy is lukewarm, if not slow.
One of the reasons for the slow growth of jobs is the slowdown of the service sector.  Manufacturing growth has also slowed down. Unless these important sectors grow faster there cannot be absorption of the unemployed into the economy.
The US has borrowed heavily from the world in the past because everyone wanted to hold dollar assets. China alone holds $3 trillion worth of dollar assets. If only it tries to unload them in the market, then the value of the dollar will sink. The debt accumulation of the US is alarming because along with the sovereign debt crisis in the EU with the latest candidate for a bailout package being Portugal, there is fear that there could be another financial crisis following a major default by Greece that would usher in another recession. If there are inflationary fears and the interest rates have to be raised, then the US can sink under the heavy interest burden. Yet people around the world have for long believed in the US being the number one nation in technology, productivity growth, innovative ideas and resilience to economic calamities. The US could and probably will revive if it could solve the problem of unemployment and control the lurking inflation and maintain a low interest rate regime. It has to remain in the cutting edge in technology and recently President Obama said that he did not want IT innovations to come only out of India and China, but the fact remains that the US education system remains moulded in the past. The US once had the highest proportion of young adults with post-secondary degrees in the world. Today its rank is 12th. People have been getting hurt with high oil prices and food prices, specially the poor.  The US now imports 60 per cent of its oil needs and is affected when international oil prices go up. The US has the third worst poverty rate among the OECD group of developed countries.
US manufacturing growth will have to pick up and its dependence on Chinese goods will have to be reduced to correct its balance of payment deficit. The manufacturing sector in the US has shrunk from contributing 28 per cent to the output in 1959 to 11.5 per cent in 2008. Consumer spending and consumer confidence have to pick up but can happen if people have jobs and regular incomes, and the private sector which runs 80 per cent of the US economy starts hiring more people. Moreover, the confidence to spend will be shaken if there is a terrorist attack in the US — which 69 per cent of Americans fear will take place within a few months of Bin Laden's death.

| | | |
| --- | --- | --- |
| | MIDDLE | |
With love to Shaam
by Vinod Prakash Gupta
I am a newspaper man. Not quite literally; it's just that I religiously go through every newspaper that I can get my hands on, every day. Anything I find interesting, I promptly cut it and file it away neatly. Things changed, time passed by but this habit of mine has stayed. And true to form out came the scissors when I came across an advertisement in the paper, immediately after the demise of legendary Field Marshal Sam Manekshaw, by his daughters Sherry and Maja requesting everyone to share with them any anecdote or experience that they have had with their father. I meant to write but never got around to doing it.
A few days ago, while cleaning one of my desk drawers, I came across this neatly filed cutting of the advertisement and it brought with it memories of that magical chance encounter with Sam in Shimla many moons ago.
On one crisp winter evening, my wife and I were enjoying a casual chat with our friend Shailender Nigam and his wife Usha over coffee in a hotel lobby. A gentle tap on my shoulder distracted me and there he stood, our charming intruder, Field Marshall Sam Manekshaw. Before we could say a word, he requested with a naughty but pious smile: "May I sit between the two ladies?" – pointing at the gap on the sofa between Usha and my wife. In one simple sentence he had the women eating out of his hands!
Comfortably flanked by the two ladies, his verve and enthusiasm lifted the spirits instantaneously. He held fort and we listened like eager school children devouring every word that came out of his mouth. Out of the many tales he regaled us with; I would like to share one with you.
During the course of the conversation, I asked him, "Who was the best Defence minister you worked with?" Pat came Sam's reply, "Late Babu Jagjivan Ram". He remembered affectionately that Babuji could never pronounce his name correctly and instead of Sam he used to call him Shaam.
He had once received a call on his hotline from Babuji requesting him to help an officer to pick up rank as Major-General. Sam politely replied that he does not interfere in such matters. A few months later Babuji invited Sam for coffee, "Shaam caffi khane aavo" (Sam join me for a cup of coffee). Over coffee Babuji requested Sam to help a Colonel in picking up the next rank. Again Sam politely reiterated his stand and said that he never interfered in such matters.
Exasperated, Babuji asked him, "Shaam, kya aap kabhi bhi kissi ki sifaarish nahin sunta" (Sam don't you ever entertain these requests?).  Sam told Babuji that there are only two exceptions to this rule. Either the person being recommended deserves it or when the recommendation comes straight from his girlfriend. Babuji whispered in Sam's ear: "Shaam yeh bhi kuch aisa hi case hai" (This case also falls in the categories of the exceptions to the rule). Stumped by his wit, Sam knew that Babuji had turned the tables on him. Babuji smiled triumphantly as he finished his coffee.

| | | |
| --- | --- | --- |
| | OPED — DEFENCE | |
The Soldier as a Diplomat
Unlike many countries, India continues to lag behind in making use of its military as an effective tool for international diplomacy. The military can be an important means of conducting strategic dialogue or track-II diplomacy, and can also be effectively employed for establishing spheres of influence and avoiding conflict situations. For this, the government has to carry out a major organisational reform in the civil-military relationship.
Air Marshal R.S. Bedi (Retd)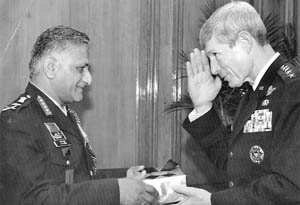 Chief of the Army Staff, Gen V.K. Singh (left) with US Air Force Chief of Staff, Gen Norton Schwartz during his recent visit to New Delhi. The Indian military brass has been kept largely out of the government's policy and decision making process concerning defence, strategic affairs and foreign policy. This has resulted in high level meets with foreign military officers being virtually reduced to mere ceremonial exercises.
Soldier diplomats have all over the world, particularly after the Second World War, contributed to a very large extent towards their national policies and diplomatic endeavours. But India has rarely made use of military diplomacy since Independence. Whether it is so by design or otherwise is perhaps a matter of perception. However, the manner in which the Indian armed forces have been used by the politico-bureaucratic combine doesn't leave much doubt about the trepidations they have of the uniformed class. The military has literally been cocooned and kept away from the civilian citadel. This inhibitive and parochial attitude only precludes any scope for comprehensive diplomacy.


Military Diplomacy
Military or defence diplomacy is the peaceful application of human and material resources from across the spectrum of the defence establishment to achieve the desired end result in the development and sustenance of bilateral and multilateral relationships in the pursuit of national interest.
Military diplomacy does not involve conduct of military operations, but includes other defence activities like high-level meets between senior officers of different countries, joint training exercises, personnel exchange programmes, regional defence forums, port calls by naval ships, logistic and technical support to other militaries and sharing intelligence and information.
The concept of military diplomacy, according to reports, has its origin in post-Cold War reappraisals of western defence establishments, led by the United Kingdom. It was used to help the west come to terms with the new international security environment. The concept is not confined to the west and is actively pursued by geopolitical stakeholders across the globe.
A policy paper by UK's defence ministry identified defence diplomacy as one of the military's eight defence missions that aimed to dispel hostility, build and maintain trust and assist in the development of democratically accountable armed forces to make a significant contribution to conflict prevention and resolution. Defence diplomacy is often developed and implemented in close coordination with government establishments associated top level decision making and foreign policy and at times economic to ensure coherence and focus.
The chief of a foreign air force that exercises regularly with Indian forces has been reported in the media commenting that defence diplomacy seeks to develop mutually beneficial relationships with friendly countries and armed forces to contribute to a stable international and regional environment.
— Vijay Mohan
Military diplomacy in the South Asian context can be a great asset for the country. Military exchange programmes, bilateral and multi lateral military exercises, joint training, assisting other countries in times of adversity, as after the 2004 Tsunami, when the Indian Navy and the Indian Air Force deployed a large number of their assets to help the devastated countries, earning accolades from the international community, are some examples of this nature. Bonhomie between the participating militaries is an essential pre-requisite for peace and prosperity in South Asia. The role of the Indian Navy in tackling piracy on the high seas is another example of military diplomacy. However, a lot more can be achieved at higher platforms by collective civil and military diplomacy.
Unfortunately, India continues to lag behind in making use of its military as an effective tool for international diplomacy. The military can be an important means of conducting strategic dialogues, track-II diplomacy, international arms control and disarmament and the sale of weapons or defence technology in pursuance of national objectives to pre-empt or counter other powers arming countries inimical to India's strategic interests. Military diplomacy can also be effectively employed for establishing spheres of influence and avoiding conflict situations. With India emerging as the world's largest weapons importer, the polity would do well to leverage this buying power in terms of diplomatic gains for the country.
For this, the government has to carry out major organisational reform in the civil-military relationship. The trust deficit that exists between them has to be removed. Next, an integrated entity comprising the Ministry of Defence and the service headquarters has to be created in order to work in unison and in close liaison with the Ministry of External Affairs. The diplomatic assignments could be handled depending upon their nature and the content. Sadly however, the MEA remains a cloistered "green zone", inaccessible to those beyond its ranks.
No nation has ever realised the importance of military diplomacy as much as the United States. It is perhaps one of the few who understands that the men in uniform are in fact better equipped for augmenting diplomatic efforts through means such as subtle power projection. Without deterrent military prowess, international diplomacy can hardly be effective. Only a composite approach can lead to dividends not attainable otherwise.
A cursory glance at US president Barrack Obama's administration reveals this approach clearly. The Pentagon model of civil-military integration under a civilian head as the secretary of defence is also followed by most of the western countries. Both, the serving as well as retired military men are entrusted with important assignments in the US administration. They help their president in matters of national security, military policy and international diplomacy. This tendency to lean towards retired military personnel for top advisory post is as against the Indian politician's propensity for retired civil servants instead.
During George Bush's presidency, the ambassador to Afghanistan was a retired lieutenant general, Eikenberry. The CIA Director too was a retired US air force general, Michael Haden. Obama's National Security Council is currently headed by a retired US Marine Corps general, James L. Jones. The Director of National Intelligence is also a retired admiral, C. Blair. The senior advisor and the coordinator on Afghanistan and Pakistan is yet another retired lieutenant general, Douglas E. Lute. It may not be out of place to mention here that of the total of 44 US presidents so far, all but twelve had served in the US armed forces. Their understanding of matters military was obviously better.
In total contrast, the men in uniform in India do not even constitute a part of the government hierarchy. They are kept away from the individual fiefdoms of our North Block and South Block mandarins, and in the bargain being distanced from the decision making loop even in matters involving military strategy. Absence of military men from key decision making is most evident in the nuclear field where the military, including the Strategic Forces Command, has no major say, in spite of being the ultimate users.
This paranoia associated with the military has its roots in the Nehruvian era. Nehru's apprehensions arose perhaps from the military take-overs in numerous newly independent Afro-Asian countries across the world. That this was replicated in our neighbourhood as well, possibly added to his woes. This perceived paranoia has gone to the extent that the armed forces are tightly controlled without much freedom of action. The indifference that babus have for the military was experienced by this author first hand. In spite of his personal liaison with then Foreign Secretary, J.N. Dixit, the author could not get the MEA to fill a joint secretary vacancy in the Defence Planning Staff.
A case in point from our near neighbourhood is that of Lt Gen Yaqub Khan. A distinguished military general, he later excelled himself as a top diplomat and held multifarious diplomatic assignments within and outside the country with élan. The Indian Government on the other hand has chosen at best to present the armed forces with an odd carrot by "rewarding" some retiring chiefs by sending them as ambassadors to petty nations - the latter sometimes a downgrading in terms of protocol. Service chiefs being allowed to visit a few countries during their tenure, a mere ceremonial exercise, is the nearest example of their diplomatic contribution to the national effort. In his memoirs, Memories: Sweet and Sour, Air Chief Marshal O.P. Mehra (Retd) recalls an instance during his visit to Iran that best exemplifies the tokenism associated with such interactions. On being personally called by the Shah of Iran and being requested to lend a hand with training Iranian pilots, all that the former air chief could respond with was that he would check with his government in Delhi. This surprised the Shah who thought the subject was well within the chief's domain. It only bears testimony to the authority vested in the service chiefs in matters of this nature.
At another level, a military attaché is supposed to be the ambassador's advisor on the host country's military and strategic environment. But treated as an alien, he is hardly allowed to play such a role. The old bias continues to manifest even today as is exemplified by this aphorism: "In the world of international relations, the military attaché was something of a hybrid. He was part diplomat, part soldier, part scout and perhaps, as Lord George Curzon suggested, not entirely welcome." He is still not quite welcome.
It may be recalled here that at the height of the Rann of Kutch crisis in 1965, the Pakistan Air Chief approached his Indian counterpart with a suggestion not to involve the two air forces lest the crisis escalates. This bonhomie between the two old squadron-mates perhaps, could have been nursed to some advantage and exploited further by building bridges over time.
Further, in the Indo-Pak context, not involving the professional military leadership during the 1965 and 1971 post-war negotiations with Pakistan led to significant strategic failures for which India is still paying the price. In 1965, our political leadership agreed to return the much-fought, highly strategic Haji Pir Pass, thereby losing the critical link between Punch and Uri. Similar bankruptcy of strategic awareness was witnessed during the Shimla Agreement, when 93,000 Pakistani prisoners of war were returned without any quid pro quo from Pakistan. India lost a rare opportunity of resolving the Kashmir imbroglio to a large extent. Professional military advice would have perhaps yielded better results from the Indian perspective.
The writer is a former Director-General, Defence Planning Staff