Nursing education is a mess
Good nurses are essential for efficient delivery of health care services, but most of the private institutes opened for training them are no better than teaching shops
Radha Saini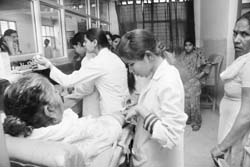 This year the theme of International Nurses Day is "Closing the Gap: Increasing Access and Equity". The theme primarily focuses on the contributions of the nurses towards efficient delivery of health care services even to the far-flung remote areas, including vulnerable communities, marginalized communities, rural communities and economically weaker sections of society with a view to promoting the utilisation of health services and health care resources by the people. However, India has been neglecting the education and training of nurses badly.
The country has 2,178 nursing diploma schools, 1373 nursing degree schools and 401 MSc nursing colleges and annually, the country produces around 60,000 nurses. According to Ministry of Health and Family Welfare (MOHFW) statistics the nurse-population ratio in India is 1:2,950 and hence among 133 developing nations we stand 75th in the nurse-population ratio even though we remain the biggest supplier of doctors and nurses to the developed world.
According to WHO, India will need 2.4 million nurses by 2012 to achieve the government's aim of a nurse-patient ratio of 1:500. More than mere setting up of buildings and infrastructure or even complying with the norms set up to establish a new college as per the guidelines of the Indian Nursing Council (INC), the need of the hour is to give evidence-based and competent practical training to our new nursing graduates and also motivating them to build/develop interest and passion for patient care. Practices need to be highly skillful and competent based on a lot of practice to deliver holistic care to clients.
There are 150 nursing institutes in Punjab with more than 25 colleges offering MSc nursing course. Not even one MSc nursing college in the state has been able to comply with even basic norms and rules set out by Ithe ndian Nursing Council, New Delhi, and Baba Farid University of Health Sciences, Faridkot. Mainly there is lack of experienced MSC nursing faculty, lack of publications and independent published research work of high quality by MSC Nursing faculty, lack of independent research and development projects by college along with lack of resources and infrastructure for MSc Nursing course.
Furthermore, on the day of inspection especially by the INC, everything is shown on papers i.e. rented buildings, lab equipment and library books. So much so, even MSc and BSc nursing faculty is hired for just 1-2 days. After that nothing is there. Imparting nursing education is a mere business for the private businessman of Punjab. The relaxations given by the INC in opening /setting up BSc nursing and MSc nursing colleges have been grossly misused by the latter.
Teaching shops
In the race to be one-up on each other, these colleges indulge in all types of unscrupulous activities ranging from assisting students in cheating in examinations to allowing students to do non-attending MSc nursing course which is totally illegal, unprofessional and unethical. Teachers are made to work by making them kill their conscience and are left on the whims and fancies of their respective managements.
Student nurses while pursing their training often lament inappropriate practical training. Nursing procedures ought to be practiced by students many times on dummies before being administered independently on patients. Yet, a majority of nursing institutes do not even have dummies. Even if a dummy is present, a student hardly gets a chance to practice on it as student-dummy ratio is 50:1 or even 75:1.
Students are forced to try out procedures directly on poor patients, making the latter guinea pigs for carrying out simple to complex nursing procedures. Often nursing students end up harming the client in one way or the other.
Nurses are always caught in a dilemma between their accountability to patients in terms of nursing care and professional duty to doctors and other health care professionals in terms of obeying their orders and hence assisting the latter by all means. So much so, while assisting physicians in clinical trials they never question the doctor regarding the authenticity of these trials in terms of the bioethics involved.
Lack of ethics
They rather blindly follow physician's orders and hence equally contribute to unscrupulous medical practices which make poor patients guinea pigs in pharmaceutical company-sponsored clinical trials. The good reason is that there are no defined nursing ethics in our country.
The difference in the care rendered to a patient by a locally trained illiterate girl/quack nurse and a diploma/degree holder or postgraduate nurse is not appreciated. Hence there is no motivation for increasing one's qualifications.
The modus operandi of private nursing homes and hospitals is to train local illiterate young girls and boys in basic nursing care which primarily includes changing IV bottles and administering medications, including injectables, and subsequently making the latter don nurses' dress and hence giving a vague and fraudulent picture of nurses to the entire society.
In the government sector, till date there is no post of Professor or Assistant Professor/Reader. Nurses in all the private nursing institutes, including mission hospitals such as CMC Ludhiana, and CMC Vellore, use self-proclaimed designations of Professor and Assistant Professor/Reader, which is totally unprofessional! Till date nurses have not been able to create a separate directorate of nursing and still are governed by Director Health services at the state level and Ministry of Health and Family Welfare at the central level. With the population of our country exceeding one billion, it is shocking that we have only one nursing advisor at the Centre.
Need of the hour
The need of the hour is to strengthen the inspection criteria of the INC and the university. It has two main components: one, checking of credentials of MSc nursing teachers in terms of published papers of high quality, conducting independent research projects or involvement in ongoing/current research project of government or any other international UN body or NGO, and secondly evaluating the academic performance of a college in terms of conducting national level workshops and organising conferences on an annual basis along with taking research grants from national bodies like the ICMR, the MOHFW, NACO and WHO, UNDP Geneva etc at the international level.
More rigorous evaluation criteria for practical and theory examinations of students, along with starting a common exit exam for all nursing passouts, thorough investigation of Masters and Bachelors nursing students' dissertation thesis, recruitment of special nurse researchers by the university are a few things needed urgently. Above all, nursing students must be continuously motivated for "selfless service" and "significance of empathy" while caring for patients.
Nurses of India need effective training and ought to acquire skills necessary for effective implementation of the government's programmes and policies, especially in relation to the Reproductive and Child health Programme (RCH-II), Universal Immunisation Programme (UIP), Adolescent Health programme and Geriatric Health Programme run by the Ministry of Health and Family Welfare at the Central level and the Directorate of Health and Family Welfare Programme at the state level. Both these programmes are being run under the auspices of the Director-General Health Services (DGHS).
The writer is Vice-Principal, Rayat-Bahra College of Nursing, Distt Mohali