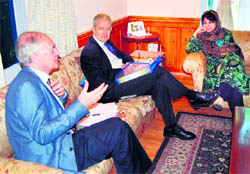 EU delegation meets Mehbooba
Srinagar, May 13
PDP president Mehbooba Mufti has said the time for "study or interaction" exercises was over and Jammu and Kashmir needed concrete steps for a holistic solution in which all influential quarters must extend a helping hand.



European Ambassador Daniele Smadja and Ireland's Ambassador Kenneth Thompson with PDP chief Mehbooba Mufti in Srinagar on Friday. Photo: Amin War

On a joy ride
Foreign tourists enjoy a shikara ride in Dal Lake in Srinagar on Friday. — PTI

Rehabilitation Policy
Govt biased against refugees: Manhas
Jammu, May 13
Referring to the state government recommending permission for the return of 20 Kashmir youth from the occupied Kashmir (PoK), BJP state president Shamsher Singh Manhas has charged the government with adopting double standards in formulating the return and rehabilitation policy.
3 cases of terror-hit for ex gratia cleared
Udhampur, May 13
The District Development Commissioner (DDC), Doda, Farooq Ahmed Khan, has asked the district police authorities to submit reports about militancy affected persons so that ex-gratia relief could be released to their families.
Health Dept to identify remote areas to post docs
Udhampur, May 13
The district administration is going to start a drive to identify difficult and very difficult areas in the remote parts of Udhampur district so that qualified doctors could be posted to provide proper medical facilities to the people living there.
Omar chairs Unified Headquarters' meeting
Srinagar, May 13
Chief Minister Omar Abdullah chaired a meeting of the Unified Headquarters here this morning to take stock of the security scenario and the law and order situation in the state.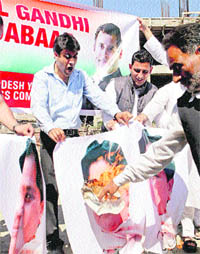 Congress workers burn posters of Uttar Pradesh Chief Minister Mayawati during
a protest against the arrest of their leaders Rahul Gandhi and Digvijay Singh in Srinagar on Friday. — PTI

Amarnath Yatra
Governor reviews progress of works at Pahalgam
Srinagar, May 13
Governor NN Vohra, who is also the chairman of Shri Amarnathji Shrine Board, visited Chandanwari and Pahalgam today and reviewed the progress of various ongoing works related to the Amarnath yatra, which is beginning on June 29.
Army jawan killed in encounter
Srinagar, May 13
An Army jawan was killed in a gunfight with militants in Kupwara district of north Kashmir here today, officials said.
Youth hurt in accidental firing by jawan
Srinagar, May 13
A youth was injured in "accidental firing" by an Army jawan, triggering protests in the Lolab area of Kupwara district here today, officials said.
Security forces hail relief to kin of slain surrendered ultras
Jammu, May 13
Security forces, including the Army and the CRPF, have termed the state Cabinet's decision to give cash compensation to the families of militants who had surrendered and were killed in militancy-related incidents, as a positive move.
Cabinet nod to ex-gratia for surrendered militants
Srinagar, May 13
The state Cabinet has approved the extension of ex-gratia relief to militants who had surrendered in case of their death in militancy-related incidents.
Two modern abattoirs for Jammu, Srinagar
Jammu, May 13
The state government has sanctioned two modern abattoirs to be set up on the outskirts of Jammu and Srinagar cities.
Diabetes in youth, women big challenge
Jammu, May 13
The Diabetes Care Foundation (DCF) in collaboration with the Bharat Vikas Parishad (BVP) organised a diabetes awareness programme here yes-terday. Renowned endocrinologist Dr Jitendra Singh was the chief guest on the occasion.
Eight cement factories challaned
Udhampur, May 13
A team of the Consumer Affairs and Public Distribution (CAPD) Department headed by the Deputy Director, CAPD, Reasi and Udhampur, conducted a surprise checking at the Battal Ballian industrial area here yesterday and challaned eight cement factories for the violation of rules.