7 SC judges to retire from July to October
The apex court will be left with 22 judges as against the sanctioned strength of 31
R Sedhuraman/TNS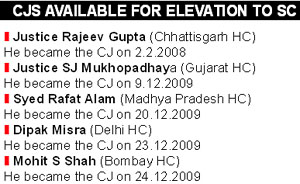 New Delhi, June 7
Justice B. Sudershan Reddy, who heads the Bench hearing the black money case, is among the seven Supreme Court judges who will retire within a span of four months from July to October.
Justice Reddy will be the first to retire on July 8, shortly after the apex court reopens on July 4 at the end of the summer vacation. His Bench, which also includes Justice SS Nijjar, has reserved its verdict on a PIL petitioners' plea for setting up a special investigation team to probe all aspects relating to generation of black money and its flight to secret bank accounts abroad, particularly Switzerland. This Bench is also hearing the cases relating to Naxalite violence in Chhattisgarh.
Justice VS Sirpurkar will be the next to retire on August 22, followed by Justices HS Bedi on September 5, Mukundakam Sharma on September 18, Markandey Katju on September 20, JM Panchal on October 6 and RV Raveendran on October 15.
At present, the apex court has 29 judges, including Chief Justice SH Kapadia. After the retirements, the number of SC judges will come down to 22 against the sanctioned strength of 31, including the CJI.
The spate of retirements will necessitate the reconstitution of almost all SC Benches, including the Bench comprising Justices GS Singhvi and AK Ganguly that is hearing cases relating to the 2G scam and anti-Dalit violence at Mirchpur. Justice Ganguly, who is presently at no. 16 on the seniority list, will move up the ninth spot and is likely to head a Bench.
Meanwhile, the exercise to elevate high court Chief Justices to the Supreme Court in order to maintain its strength has been set in motion, official sources said.
Nine high court judges became Chief Justices in 2010. They are: Justices Kurian Joseph of Himachal Pradesh HC (February 8), Nisar Ahmad Kakru of Andhra Pradesh HC (February 19), Jasti Chelameswar of Kerala HC (March 17), V. Gopala Gowda of Orissa HC (March 25), MY Eqbal of Madras HC (June 11), Rekha Manharlal Doshit of Patna HC (June 21), Madan B Lokur of Gauhati HC (June 24) and JN Patel of Calcutta HC and Ferdino Inadio Rebello of Allahabad HC (both June 26). The other high courts either have CJs elevated this year or acting CJs.
While HC Chief Justices and judges retire at the age of 62, their SC counterparts retire at 65.