Hisar residents hold protest march
Hisar, July 12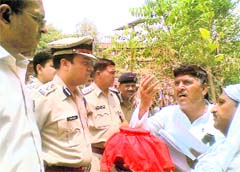 In a bizarre show of anguish, residents of the Patel Nagar area of the city staged a demonstration at the Mini-Secretariat here today, carrying an urn containing the ashes of Vicky Arora, a juice vendor, who was murdered on Friday night.


Residents of Patel Nagar carrying the ashes of a murdered juice vendor hand over a memorandum to ADC Ashok Garg (left) and SP Hanif Qureshi (centre) in Hisar on Tuesday. A Tribune photograph
MC land-holders stage protest
Sonepat, July 12
In protest against the "negligent" attitude of the local municipal council authorities for not giving the ownership rights to the lease and possession holders of the council's land, hundreds of protesters today staged a demonstration at the mini-secretariat here.
Special Task Force to check foeticide
Jind, July 12
The district health authorities have announced to activate the existing machinery to check the growing trend of sex determination in the district.
DGP Dalal opens police-public school at Bhondsi
Bhondsi (Gurgaon), July 12
An education society headed by an IGP will be constituted to take care of the educational needs of children of policemen serving in Haryana, said DGP Ranjeev Singh Dalal after inaugurating Shri Ram Police-Public School on the campus of CPT&R here today.
New criteria being framed, HC informed
Chandigarh, July 12
The state is coming up with an objective criteria for appointment to the HCS through nomination.
Chautala draws flak for stand on Hansi-Butana canal
Chandigarh, July 12
INLD leader Om Prakash Chautala's stand on the Hansi-Butana canal has invited strong criticism from Haryana ruling party leaders led by Chief Minister Bhupinder Singh Hooda.
Keshni Anand Arora for Centre
Chandigarh, July 12
The state government has placed the services of Keshni Anand Arora, Financial Commissioner and Secretary, Transport, at the disposal of the Central Government for appointment as Deputy Director-General (joint secretary level) in the regional office of the Unique Identification Authority of India, Chandigarh, with immediate effect.
A lesson in corporal punishment
Fatehabad, July 12
A Class IX student of Government Senior Secondary School,Ratia, was beaten up by a teacher because the child's parents could not buy him a book due to penury.
Sain Samaj meets SP, seeks action against accused
Karnal, July 12
While the police is yet to take action against former Haryana Transport Minister Om Prakash Jain and ex-CPS Zile Ram, named as the main accused in the complaint lodged by Rajinder Singh, son of deceased ex-sarpanch Karam Singh, hundreds of Sain Samaj members today met Rakesh Arya, SP, Karnal, and demanded arrest of four persons, allegedly inquiring about Rajinder Singh.

Kurukshetra resident shot dead in US
Kurukshetra, July 12
The shocked members of the family of Deepak Sharma (31), who was allegedly shot in Indiana (America) yesterday, have urged the Indian Government to use its good offices to expedite the completion of the formalities for getting Deepak's body at the earliest.
Deepak Sharma
Sirsa youth kidnapped, ransom demanded
Sirsa, July 12
The police today registered a case of kidnapping for ransom after a youth went missing from the town last night and his kin received an SMS from his cellphone demanding ransom of Rs 25 lakh for his release.