Telly tales
Mona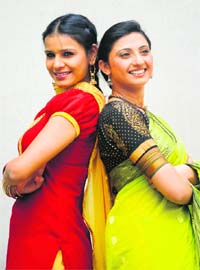 TWO TO TANGO: (L-R) Swati Bajpai & Rubina Shergill Photo: Pradeep Tewari
Prim and proper, dressed in elaborate attire, makeup in place as the hairdo, when Mrs Kaushik Ki do bahuyein, walked in at Hometel, Chandigarh, on Thursday, they shared more than just about the Kaushik parivar.
Destiny driven
Chandigarh girl Rubina Shergill, who plays the character of Simran, is happy to have found her ground. "I couldn't have done anything else, but become an actor," says Rubina. Interested in the telly world, her parents were not really keen on a career in acting but destiny had other plans. Rubina accompanied her mother, who was on a posting to Mumbai and started working on TV.
Now three serials old, she is enjoying playing the twin role, that of a cop and bahu in Mrs Kaushik Ki Paanch Bahuyein. "I feel fortunate to play a cop as well as a daughter-in-law for this gives me an opportunity to prove my mettle as an actor," shares Rubina. A MCM pass-out, Rubina enjoys the tele-life. Work is challenging. Shifts are long, and its unending work but then Rubina is enjoying each moment of it. "This is what I want to do for the rest of my life," exclaims this actor.
Don't we already have too much of saas-bahu sagas? "Yes, there are, but each one of them is different than the other," says Rubina. "Unlike most other serials, there is no negativity in saas-bahu relationship in this one," she clarifies.
Who is the audience? "The premise of Mrs Kaushik… is a strict, disciplinarian mother-in-law running the household by the rulebook, in her effort to keep the family together," shares Rubina. "All those few who are in the joint family, as well as those who are not, do relate to this serial. Only those who are in a nuclear family know how difficult it is to leave kids alone at home."
Well, we do realise how much a 'good' mom-in-law is needed, but, presently, it's her mom, that Rubina misses the most. "My mother moved back to Chandigarh and it gets terribly lonely sometimes," says Rubina, holding back her tears. "Though Mumbai is home, I miss everything that Chandigarh has, family, friends and geris on my scooter," says Rubina, who is happy playing Simran on TV and looking forward to playing 'Simran' in Punjabi films!
Spreading happiness
Swati Bajpai, a 24-year-old actor who portrays happy-go-lucky Nimmi, is a Punjabi bahu in Mrs Kaushik. Close to her real self, Swati is vivacious, open and a little loud. And her take on Punjabis? "I worked on a documentary that took me to Jalandhar, Ludhiana and Pathankot. An interaction with families in Punjab was a true eye-opener. From where I come, UP, daughters-in-law still keep purdah from fathers-in-law. It was heartening to see the whole family sit together and share a joke," exclaims this girl, who is too happy to play a Punjabi on television.
She finds Chandigarh like her second home. "I grew up in Gandhinagar, a true cut and paste of Chandigarh. I feel so much at home here," says Rubina. Perils of TV work? "No pain, no gain. I enjoy wearing elaborate dresses. In fact, seeing the technicians put in that much hardwork makes us feel under-worked," she chirps. In fact, finding a matching parandi for her dress made us wait! Apologising profusely, she shares, "It is fun being an actor and to get in the quirkiness of the character. It's a real show," claims Swati!
mona@tribunemail.com