COLUMNS



THIS ABOVE ALL

TELEPROMPT

GOOD MOTORING

LIFE'S LESSONS

LEXICON
FOR CHILDREN



CROSSWORD

RHYME TIME
Earlier Feature


TELEVISTA


AUDIO SCAN
Botox, liposuction, hair transplants, derma peels and the scalpel have become a staple Bollywood fare. Salman Khan has got a fresh crop of hair from his recent Dubai visit, while Kangna acquired a Jolie-esque pout and Bbuddah Hoga Terra Baap star Amitabh Bachchan sports a sharp jaw line. Deepa Karmalkar reveals some well-kept age-defying, beauty-enhancing secrets of the tinseltown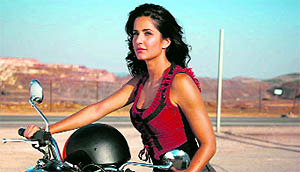 Emma Watson, heroine of Harry Potter, recently declared that she won't be shifting to Hollywood, "If I have to work out four hours a day, and count calories... and have Botox at 22, and remain obsessed about how I look the whole time, I will go mad. I will absolutely lose it," she reasoned.

Katrina Kaif flaunted a sculpted waistline in her recent release Zindagi Na Milegi Dobara

A journey in time
Cool and smart designs have made wearing a watch a fashion statement, writes Supriyo Hazra
Once it was a necessity that made people embrace it on their wrists. But as the tides of time passed by and technology advanced, it has now turned more into a fashion statement than a necessity. While the aged still prefer to wear golden and silver-framed watches, the young generation believes in wearing the 'funky' designs of contemporary times.
Apostle on mission
Baldev Singh Vij, a Sikh from Punjab, who migrated to Canada more than four decades ago, was recently honoured for his contribution to the inter-faith community, writes Sheeba Singh`A0from Ottawa
In a community and country which prides itself in its multicultural assets, changes continue to be made. Where the aftershock tremors are there in our lives even today, the world continues its efforts to sink differences. Ottawa Mayor Jim Watson declared June 12, 2011, as Inter-Faith Day. Another small effort with big hopes.