PUNJAB

HARYANA

JAMMU & KASHMIR

HIMACHAL

REGIONAL BRIEFS

NATION

OPINIONS

LETTERS

BUSINESS

SPORTS

WORLD

Every Wednesday & Saturday

Life behind barbed wires
The fence along the border with Pakistan, which has been erected several kilometres behind the zero line, has left hundreds of Indian villages sandwiched. Residents of such villages, which are almost cut off from the rest of the country, consider themselves prisoners in their own country, reports Ashutosh Sharma from Jammu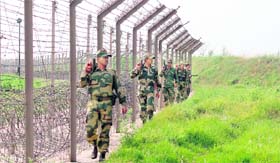 Life is tough in Indian villages and more so in the border villages. It becomes even tougher in areas caught between the barbed fence put up by the Indian security forces on the border with Pakistan that runs through many districts of Jammu region.
Airport Land Under Acquisition
Budgam man, his relatives feel cheated by Defence Estates
Srinagar, July 26
Abdul Rashid Hanjoora, a resident of Budgam district, and his two relatives are a harried lot nowadays, as their hopes of getting rental income from a piece of land that they had purchased on the premises of the Srinagar airport have been dashed. The land is at present under the acquisition of the Defence Estates Department and Abdul and his relatives feel they have been duped.
Picturesque Basohli in neglect
July 23, 2011
Rs 81.91 cr for development in Udhampur
July 20, 2011
Moderate rain belies MC's claims
July 16, 2011
First in notifying grazing rights to tribals
July 13, 2011
Fresh survey of BPL families soon: Omar
July 9, 2011
Patnitop awaits tourism projects
July 6, 2011
Power crisis hits water supply in Jammu
July 2, 2011
Tourism Rebounds
June 29, 2011
Chrar-e-Sharif to be part of tourist circuit
June 25, 2011
Sex ratio imbalance alarming
June 22, 2011