Patriotism reloaded
In this age of remakes and remixes, the film fraternity talks to Jyothi Venkatesh about patriotism in Hindi cinema, its making and remaking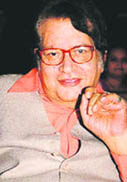 Pasha of patriotism
MANOJ KUMAR,
actor and filmmaker
THIS is the age of the remakes because what the filmmakers lack these days is imagination. I do not want to insult the filmmakers of yesterday by suggesting that someone should make a remake. Saira Banu wanted me to remake my own Purab Aur Paschim but I refused.
Small salutes
Small-screen stars spell out what Independence Day means to them
Sara Khan, Mona of Ram Milaayi Jodi, says, "I remember my school days when we used to get together early in the morning on Independence Day and sing patriotic songs after the flag- hoisting ceremony.
Saying it the bohemian way
The works of GenNext artists Jiten Thukral and Sumir Tagra are an indirect indictment of growing commercialisation, writes Nonika Singh
WHEN an artist duo decides to take on superstar Aamir Khan, one wonders if they want to bask in reflected limelight. But when the artists in question are none other than internationally acclaimed Jiten Thukral and Sumir Tagra, who figure among the 101 Emerging Designers of the World (Wallpaper magazine), best known for their innovative thinking, the fuss isn't about gaining brownie points.
Unnatural selection
Studies have estimated that by 2020, it will be very difficult for hundreds of thousands of Asian men to get a wife due to the skewed sex ratio
ASIAN men will have a tough timefinding a wife by 2020 if the ongoing perception that a male is better than a female child continues. According to the China Press, an estimated 160 million female foetuses have been aborted over many decades due to the mistaken perception that the male is superior to the female.
Border sentinels
The BSF's Sadqi border observation post in Fazilka adjoins Pakistan's Sulemanki post. The BOP is the third place in the state after Wagah and Hussainiwala where the Retreat ceremony takes place every evening, writes S.P.Sharma
Sadqi is a little-known border observation post (BOP) of the BSF in the newly-created Fazilka district of Punjab. It is no less than the Wagah joint check-post in Amritsar.
Cheers for beer
Oktoberfest began with the marriage of Crown Prince Ludwig of Bavaria in 1810. The first beer stand wasn't added until in 1818. In 1896, the beer stands were replaced by the first beer tents and halls set up by enterprising landlords with the backing of the breweries. More than two centuries later, the festival woos millions of visitors from all over the world, writes Sudha Mahalingam
Oktoberfest in Munich is an unmitigated, but not altogether unpleasant assault on all your senses – visual, auditory, tactile, gustatory and olfactory. Of course, everyone present, including yourself, is both perpetrator and victim.
A rags-to-lenses story
Vicky Roy, a street child-turned-ace art photographer, will be India's sole representative at the prestigious The Art of Photography Show 2011 to be held in San Diego in the US later this month.
A matter of faith
FAITH in God shields you against worries and helps you tackle life's uncertainties. "The implications...for the field of psychiatry are that we have to take patients' spirituality more seriously than we do," said David Rosmarin, assistant professor of psychology at the Harvard-affiliated McLean Hospital.
Sourav stumped
Former cricketer's restaurant closes down in Kolkata
FORMER Indian skipper Sourav Ganguly-owned, Sourav's, The Food Pavilion on the upmarket Park Street area downed its shutters recently following seven years of a topsy-turvy innings.
Ageless stars
The 40-plus Bollywood badshahs are still calling the shots as they get meaty roles and maximum media coverage, writes Radhika Bhirani
Bollywood can't get enough of its good old, 40-plus actors — Shah Rukh Khan, Salman Khan, Aamir Khan and Ajay Devgn. They ruled the roost in the 1990s and after two decades, they are still calling the shots as they get the best films, meaty roles, highest remuneration and maximum media coverage.
Pinto up with the apes
Freida Pinto in conversation with Iain Blair about the making of the film and why she is a Hollywood, and not Bollywood, star
Freida Pinto got her big break when director Danny Boyle cast the ex-model as the love interest in the 2008 Oscar-winning hit film Slumdog Millionaire. Now, she's hitting silver screens in her first big-budget, effects-driven Hollywood movie.