Mock simulation event begins in Doon School
Tribune News Service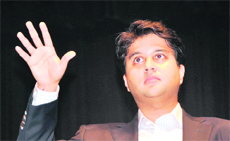 Jyotiraditya Madhavrao Scindia, Union Minister of State for Commerce and Industies, addresses students at The Doon School in Dehradun on Friday. A Tribune photograph
Dehradun, August 19
Union Minister of State for Commerce and Industry Jyotiraditya Madhavrao Scindia today inaugurated The Doon School Model United Nations (DSMUN), a mock simulation event in The Doon School.
Addressing students, the former alumnus said events of this nature provided opportunity to students to get knowledge about human rights and the prevailing international situation.
School Headmaster Peter McLaughlin said at times, he had been full of doubts about the functioning of the United Nations.
"In the context of Syria, I have often been surprised at the absence of response from the United Nation Human Rights Council when a large-scale human rights violation is taking place there," said Peter.
He also urged the students to learn the art of collaboration and allowing things to happen.
The first day was dedicated to registration and the committee meeting. The simulation exercise is expected to provide an opportunity to students to learn about international affairs, country specific problems and even hone their debating and negotiating skills.
As students carry out mock exercise on the United Nations Assembly Council and crisis situation in the coming days, they would be re-rated for their eloquence, presentation and knowledge by teachers.
The schools that are participating include Pathways World School, Gurgaon, Welham Girls School, Dehradun, The British School, New Delhi, Ryan International School, New Delhi, Tagore International School, Delhi, Woodstock School, Mussoorie, Chittagong Grammar School, Chittagong, Bhavan Vidyalya, Chandigarh, Aitcheson College, Lahore, Mayo Girls School, Ajmer, Hopetown Girls School, Dehradun, Vivek High School, Chandigarh, Our Indian School, Dubai, The Lawrence School, Sanawar, La Martinere Girls School, Lucknow, Indian School Muscat, DPS RK Puram, New Delhi, Pinegrove School, Shimla, Daly College, Indore and Mussoorie International School, Mussoorie. Meanwhile, the minister, who is on a private visit, said social activist Anna Hazare should not have been arrested. During the question and answer session with students, the minister interrrupted the Headmaster midway and said Anna Hazare should have been allowed to stage a peaceful protest. But when students asked him to give his views on the issue of popular sovereignty versus Parliament sovereignty, the minister did a balancing act and said: "The voice of the people provides strength to democracy, but Parliament is the arena where laws and legislation related work is done."