M A I N N E W S
Rebels hunt for Gaddafi in Tripoli
Libyan dictator goes into hiding as endgame begins
Tripoli, August 22
Muammar Gaddafi was a hunted man today as loyal remnants of his forces made a last-ditch stand in the capital and world leaders embraced the fractious Libyan rebels as new masters of the oil-rich North African state.
Nearly 48 hours after a pincer thrust on Tripoli by the irregular rebel armies, launched in tandem with an uprising in the city, Gaddafi's tanks and sharpshooters appeared to hold only small areas, including his Bab al-Aziziya headquarters.


Civilians, who mobbed the streets late on Sunday to cheer the end of dictatorship, stayed indoors as gunfire crackled. Gaddafi's prime minister showed up in Tunisia. State television went off the air and rebels said they had seized its transmitters.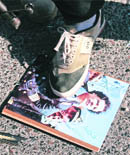 Rebels trample a picture of Gaddafi. — Reuters
More Libyan embassies abroad hoisted the rebel flag. Western powers who deployed air power in support of various rebel groups in different regions, urged the "Brother Leader" to accept his 42 years of absolute power were over, and to end the bloodshed after six months of civil war that has ebbed and flowed erratically across the sparsely populated desert nation.
French President Nicolas Sarkozy, who took an early gamble on the Libyan rebels, called on Gaddafi loyalists "to turn their back on the criminal and cynical blindness of their leader by immediately ceasing fire, giving up their arms and turning themselves into the legitimate Libyan authorities".
US President Barack Obama said: "Muammar Gaddafi and his regime need to recognise that their rule has come to an end."
Egypt, whose Arab Spring revolt inspired its neighbours, abandoned its caution and recognised the rebel government. Other beleaguered Arab revolutionaries, notably in Syria, may take heart from a hard-fought triumph in the sands of Libya.
Laila Jawad, 36, who works at a Tripoli nursery, told Reuters after the rebels swept into the city: "We are about to be delivered from the tyrant's rule. It's a new thing for me. I am very optimistic."
With international competition already heating up for Libyan oil, Russia and China, critics of the West's assault on Gaddafi, also indicated he should bow to the now inevitable.
But after a defiant audio address on Sunday, urging citizens to take up arms against rebel "rats", no more was heard from a man who is one of the world's longest ruling leaders and who vowed do die fighting rather than surrender. Various officials said they did not know where he was.
Two of Gaddafi's sons were detained, including Saif al-Islam who has been indicted with his father for crimes against humanity. Two other sons, Khamis and Mutassim, were reported by Arab media to be with those still fighting.
Gaddafi's prime minister, Al Baghdadi Ali al-Mahmoudi, arrived late on Sunday on the Tunisian island of Djerba, a favoured location for defectors and negotiators from Tripoli.
Local sources could give no account of what he was doing there. A rebel official in the eastern city of Benghazi, seat of the opposition National Transitional Council, said some of its representatives had slipped in to Tripoli in recent days to make contact with authorities hitherto loyal to Gaddafi with the aim of averting a breakdown of order in the capital.
Civilians had flocked late on Sunday to Green Square, long the showpiece of the leader's personality cult, waving rebel flags. Some said they would rename it Martyrs' Square. Young men burned the green flags of the government and raised the rebel tricolour last used by the post-colonial monarchy which Gaddafi overthrew in a military coup in 1969. — Reuters